Year in Review: Presenting the 2019 Reverb Raccoon Revvy Awards!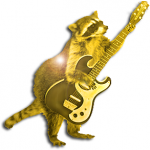 The Christmas turkey has been reduced to a gnawed carcass of bones and the sinewy dark meat that no one wants. The plastic tree has been crammed back into the attic and – we hope – you have recovered from your New Year's hangover. The 2019 Cute Kittens calendar on the refrigerator has been discarded, its subjects having passed into Cathood, replaced by a new litter of monthly subjects. Time to reflect on the year that is fast receding in the rearview mirror, and to recognize the accomplishments of the independent musicians who appeared in these virtual pages by presenting the first annual Reverb Raccoon Revvy Awards.
Everyone who creates music and puts it out there for the world to digest deserves a Revvy Award. But, because I have a limited supply of solid gold statues, most of you will have to make do with my thanks and the knowledge that a few paragraphs about your song will be perpetually preserved on a server as long as I pay my monthly hosting fee. So let's call upon those who garnered some special recognition. Please limit your acceptance speeches to two-minutes-fifty.
Best Original Song – Tim Buchanan with Dusk, Grinnin'
If you're looking for cutting edge music, music that is amazing today but gone tomorrow, forever identified with one particular pinpoint in time and space… well, this isn't it. 'Grinnin" is totally timeless, beautiful today, tomorrow, and yesterday. It is not only my favorite song of 2019, but one of my favorite songs of all time. 'Grinnin" was featured as a Song of the Day way back in January and, happily, it was the most-read post of the year. 'Grinnin" is real country music.
Best Cover Song – David Nance, Little Bit of Rain
'Little Bit of Rain' is not a cover; it's more of a re-imagining. David Nance takes up the Fred Neil folk classic from 1965 and strips away every sliver of half-smiled wistfulness to leave nothing but pain, the pain that comes from remembering the good times and forgetting the bad. And if I look back I'll try to remember all the good times, warm days filled with sunshine, just a little bit of rain. And if you look back try to forget all the bad times, all those sad and lonely blue times, cause it's all just a little bit of rain.
Best Album – Sofa City Sweetheart, Super​(​b) Exitos
Sofa City Sweetheart is Juan Antonio Lopez of West Covina, California. Super​(​b) Exitos is an album in the truest and greatest sense, a throwback to the days when an album was not a collection of random tracks but an experience: the purchase, the tearing away of the plastic, the placing of the needle on the outer groove. Super​(​b) Exitos may even qualify as a concept album, a designation reserved for collections that conveyed a common theme and that demanded to be enjoyed as a whole, first track to last, in a single sitting. We featured two Songs of the Day from the album, 'Stop the Thinking' and 'Annie Stays Home.' Here's the opening track, 'The Same Old Song (You Were Always on My Mind).'

Most Songs of the Day – theCatherines
theCaths scored four songs of the day in 2019: 'Jingle Jangle,' 'So Much Time and So Little to Do,' 'Bitter Honey,' and 'It's Really Good!' theCatherines are Heiko Schneider and Sandra Ost of Hamburg, Germany. It's always a pleasure to write about their music. The combination of literalness, jangly nonsense, and sweet arrangements makes me smile. In the past two years, theCaths have appeared in these virtual pages twelve times! 'It's Really Good!' was written and recorded on a single Sunday afternoon. And I find that level of effortless artistry to be somewhat annoying. 🙂
Most Songs of the Day from a Single Album – Backyard Star, Big Dreams
The power pop of Big Dreams provided a plethora of posts. We featured three tracks from Backyard Star's latest release: 'Enemy,' 'You,' and our favorite, 'Two Is Better Than One.' Backyard Star is Matt Fass of Los Angeles. We're already looking forward to his next album. We need good songs to write about!
Best Original Score – Christopher James, Mount Kisco Moon, the Musical
Someday I'm going to write a normal album review, the type that reads This song sounds like the Pixies and that song sounds like some other band that you haven't heard of. But until I learn how to write like that, I'll keep writing things like Mount Kisco Moon, the Musical, the synopsis of an imaginary play featuring songs from Christopher James' 2018 album, In the Month of May. I thought this post was fairly clever and several people read it. Who knows? Maybe instead of learning to write a normal album review, I'll learn to write a play about Mount Kisco…
Best Guest Posters – Jason Steady, Joshua Powell, Gavin M. and Kevin Bloom
Believe it or not, I actually put some thought and preparation into these Song of the Day articles. Sometimes, if a song seems especially personal or enigmatic, I will ask the artist for some insight about the track. The responses that I received from Joshua Powell, Kevin Bloom, and Gavin M. describing, respectively, 'Black Lodge (water),' The Dead Shakers' 'Brother Stomach,' and 'Don't Forget Me' were far and away better than anything that I could have composed. I was happy to edit their words a bit and post them under their names.
In August, Jason Steady made a series of Tweets about touring: the people, the problems, the adventure, the lack of money. With Jason's permission, I edited the Tweets into an article, An Independent Musician's Thoughts on Touring. Jason's words became one of the year's more popular posts. And he captured the musical mood of indie touring in a song, 'Sleeping in Parking Lots.'
Best Month – March
March 2019 was a banner month for the Raccoon family. The music was memorable and inspiring. We wrote sixteen articles, one every other day and (I don't like to brag, but…) I think I was writing pretty well during this stretch. We featured songs by Sofa City Sweetheart, theCatherines, K. Campbell, Vassals, Farrow and the Peach Leaves, Little Waters, Cedarsmoke, Gavin M., Leon Russell and the Allman Brothers, Joshua Powell, Ryan Tanner, The Hired Hand, Jhohn Arlie, Borrowed Books, Him Horrison, and the New Riders of the Purple Sage.
In the first week of March we featured one of our favorite songs of 2019, Jhohn Arlie's 'Chain of Sparks' from his five-song EP, Wonder.
Best Reverb Raccoon Review That Appeared on Someone Else's Website – The Memory Fades, She Loves the Birds
This year I was very honored to be given the opportunity to contribute four guest posts to Estella Rosa's Fadeawayradiate. Unlike my posts on Reverb Raccoon, where I usually feature individual songs, I reviewed albums and EP's. I was especially happy with my review of She Loves the Birds by The Memory Fades. My favorite sentence: The latter track describes equally the separation that always occurs when two people expand their world views, and the loss of intimacy felt by a parent whose child has wandered into the busy street of adulthood.
I'm sorry, but I was proud of that busy street of adulthood line. 🙂 Anyway, here's the song in question, 'Am I Losing You?' by The Memory Fades…
And thus we send 2019 on its way and open the door for the incoming adventures of 2020. I have a few more Songs of the Day on the docket. After that, I hope to shift to writing longer articles, including some that are not about music. Thanks again to everyone who made the music. And thanks to everyone who read the posts, everyone who Liked and shared them on social media, and everyone who said nice things about my writing. See you at the end of the road!