Jhohn Arlie – Chain of Sparks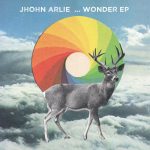 We step down from the Green Line bus, late as usual, and enter the theater well into the third reel. The 'Boy Meets Girl, Boy Loses Girl' plot devices have spun away, to be rewound after the crowd departs. And as 'Chain of Sparks' plays over the rolling credits, our hero walks in slow motion into a warm spring rain…
In 'Chain of Sparks,' Jhohn Arlie leads us from the theater and into those fascinating fifteen minutes that follow a breakup, when the stars shine through scattering clouds and we can imagine the next charming chimera, but before our shoes fill with water. It's the time to tell your departed, 'May you find true love.' Tomorrow you will be saying it to yourself.
'Chain of Sparks' begins with an acoustic guitar and harmonica that could have been recovered from Neil Young's Harvest Moon, then leaves the obvious antecedents behind to become an absolutely beautiful slice of bittersweet pop and folk. The chorus alone is worth the price of admission, with a melodic hook that will be stuck in your head (in a good way) after a single listen. 'Chain of Sparks' is my new favorite song. I've already penciled it in for my Best Songs of 2019 year-end recap.
Jhohn Arlie is based in Tulsa, Oklahoma. 'Chain of Sparks' is from his new five-song EP, Wonder. On his Facebook page, Jhohn tells us that, before recording these tracks, he 'almost gave up on making music.' Lucky for us that he didn't. The EP features Jhohn (vocals, acoustic guitar, harmonica), Andy Layden (lead guitar), and C.M. Rodriguez (drums, bass, piano, synth, guitar). C.M. Rodriguez also recorded and produced the EP, and it sounds fantastic. So good job, C.M.
You can support deserving independent musicians like Jhohn Arlie by visiting his Bandcamp page, listening to his songs, and downloading your favorite tracks. And be sure to follow Jhohn on Spotify, Facebook, and Instagram.