The Hired Hand – What's His Face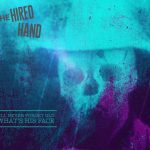 The multiplicity of life's demands beckons to one, the living beckon to one and say: 'Come to us, we will take care of you.' One who is dead, however, cannot beckon… Little by little, as the dead crumbles away, the memory crumbles away between the fingers and one does not know what becomes of it. — Kierkegaard
In 'What's His Face,' The Hired Hand provides a status report by a body beyond the ability to beckon. It's unclear whether the condition is entirely terminal, or if he has only departed from the presence of former friends while remaining anchored to this Earthly realm. Within the collective memory of those left behind, our hero resides in limbo, neither forgotten nor entirely remembered. I'll never forget old What's His Face. At least his existence is recalled. With time, that memory too shall cease.
'What's His Face' opens with a mighty blast of harmonica before the curtains part to reveal a rough-voiced vocalist whose lack of subtlety is his outstanding virtue. The track recalls Uncle Tupelo's cover of Doug Sahm's 'Give Back the Key to My Heart,' but with the thrashing guitars of Son Volt, a whirling organ instead of a fiddle, and Sahm singing all verses. In other words, it sounds nothing like 'Give Back the Key to My Heart.'
'What's His Face' is from The Hired Hand's new five-song EP, I'll Never Forget Old What's His Face. Based in Lima, Ohio, The Hired Hand is Joel Horstman (vocals, guitar, songwriting) with help from J.M. Lansdowne (drums, guitar, harmonica, keyboards). Shawn 'Shizzy' O'Neil contributed bass on 'What's His Face,' and Joey Baughn provided backing vocals. The EP was produced and engineered by J.M. Lansdowne and mastered at Legacy Sounds in Lima. Joel is a member of Beers for Cheers, whose members appeared on the EP. Regarding the quality of his singing, Joel tells us in an Instagram post, 'I used to scream into mics; nowadays it's a polite yell.'
You can support deserving independent musicians like The Hired Hand by visiting his Bandcamp page, listening to his songs, and downloading your favorite tracks. And be sure to follow The Hired Hand on Facebook, Instagram, and Soundcloud.
Richie: You know, Rachael's buried out there too.
Royal: Who?
Chas: My wife.
Royal: Oh, that's right, isn't it. Well, we'll have to swing by her grave too.
— from The Royal Tenenbaums