Sofa City Sweetheart – Stop the Thinking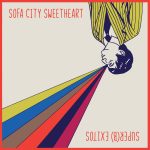 By night's end, I predict me and her will interface.
— Farmer Ted (The Geek) in Sixteen Candles
Farmer Ted had a simple approach to love: dance with a girl and she'll go home with you, if it's OK with my dad. Ted awoke the next morning being slapped in the face by the Prom Queen, so his approach obviously has validity.
There are some fields of endeavor – airline pilot, brain surgeon, President of the United States – that we assume require a lot of thought. Or we hope they give it some thought, anyway. In 'Stop the Thinking,' Sofa City Sweetheart reminds us that Love is not on the list. Love should not be overthunk.
'Stop the Thinking' is one of those P-cubed songs. Pure Power Pop. It has everything that makes a pop song memorable and danceable: guitars (hard and soft variants), stick-in-your-head melody delivered via a great vocal, harmonies, and – wait for it – Mariachi horns. It says here that at this point I'm supposed to say Johnny Cash, but I don't remember why. If 'Stop the Thinking' doesn't make you smile, then you need to increase your dosage.
Did you listen to the entire track? You didn't? OK go back and listen again. You missed the ol' Hidden Track Trick…
'Stop the Thinking' is from Sofa City Sweetheart's new album, Super(b) Exitos, set for release on April 19. Sofa City Sweetheart is Juan Antonio Lopez of Los Angeles. He describes his music as 'the love child of The Kinks and Elliott Smith.' Juan plays all of the instruments on 'Stop the Thinking,' including the horns. A release party for Super(b) Exitos will be held April 19 at The Hotel Cafe in LA. For tickets, click here.
You can support deserving independent musicians like Sofa City Sweetheart by visiting their Bandcamp page and pre-ordering Super(b) Exitos. Be sure to visit sofacitysweetheart.com, and follow Sofa City Sweetheart on Facebook, Instagram, Spotify, and Twitter.
Bonus Video: The official video for 'Stop the Thinking!' Enjoy!