theCatherines – Bitter Honey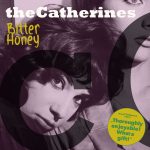 Love and beer are opposites. The first time beer passed your tongue, you retched like a sailor on shore leave in New Orleans. It didn't help that you were sampling a stale, half-empty can that you found in the basement the morning after one of your big brother's parties. But a few years later you were downing a 30-rack to pre-game before you hit the bars for some serious drinking. Love is sweet when it hits your lips. But in six months when the cuffs come out you can be heard screaming a mile away as you're headed toward the door at a dead run. With love, as with beer, the keystone is learning to relish – or at least tolerate – that bitter, hoppy taste and to pick a partner who gives you a righteous buzz while keeping the headaches to a minimum.
'Bitter Honey,' the new single from theCatherines, explores a relationship in which one participant has embraced love's Yin and Yang, perhaps to an unhealthy degree.
If I just used my head I'd have sent you away
If only somehow I knew what I know now…
It must be love that has kept me this way
It made me your slave, it made me behave…
Well, who am I to judge? But, like your grandmother pouring the Castor Oil into a spoonful of sugar before shoving it down your throat, theCatherines sweeten the darkness with a cloud of perfectly pitched vocals and an arrangement that recalls those sixties songs that floated in that magic space between pop, rock, and bubblegum.
'Bitter Honey' was written by Paul Williams and Roger Nichols, and recorded by The Holy Mackerel way back in 1968. The group was formed to showcase Williams' talents, but became a one-sorta-hit-wonder when the band broke up before release of its sole album. theCatherines – Sandra Ost and Heiko Schneider of Hamburg, Germany – recorded their version with Paul Williams' blessing and approval. "Out of a whim, I asked Paul Williams via Instagram if it's okay to cover his song AND if he would like to sing a line or so," Heiko told me. "He was nice enough to not call the cops, but to wish me the best of luck with my own voice. Then I sent him theCaths' version and he answered, 'What a treat to hear a fresh and thoroughly enjoyable recording of this largely forgotten song. What a gift! Thank you.'"
This marks theCatherines' seventh appearance in Reverb Raccoon. We have previously featured 'The more we kept moving the farther away we got from us,' 'If you don't have a clue please get out of the line,' 'She has a knack for seeing other people's faults' plus 'Why are you always so sarcastic… you prick,' 'How come you think everybody likes you,' 'Every time you say it's OK I know it is OK,' and 'Santa Claus Is Coming to Town' with 'Let It Snow.' The duo self-describes as "Jingle-jangle with a blast" and admit to having "a soft spot for hard guitars." As a reviewer, I appreciate the band's literacy: I don't have to try to figure out what a song is about; it's right there in the title.
You can help support deserving independent musicians like theCatherines by visiting their Bandcamp page, listening to their songs, and downloading your favorite tracks. And be sure to follow theCatherines on Facebook and Instagram.
Personal Note: I have been married to my awesome soulmate for almost a year, and have no plans to run screaming toward the door any time soon.