Ryan Tanner – A Hymn for Me and You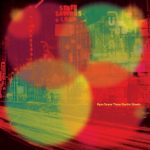 Sometimes all you want is a quiet song with a steel guitar and some harmony and that will be enough. That's a lot. I don't have to say 'love song' because quiet songs with a steel guitar and some harmony are always love songs, one way or another.
In 'A Hymn for Me and You,' Ryan Tanner pens a letter to a lover, past or future or perhaps to himself, expressing the sentiments by which we all wish to be remembered – but rarely are – after we've ridden the rapids together and step out onto unmoving but uninspiring ground, each there to follow a separate narrow path of unyielding hard-packed sand. A broken heart is an open heart, don't ever be ashamed.
'A Hymn for Me and You' does not slide pleasantly into a pre-formed pigeonhole. It floats mysteriously in the ether that connects and separates folk, country, and modern pop. Classic country vocal harmonies intertwine with a beautiful steel guitar, but are intermixed with a whirling synthesizer and images of nature painted with folky acoustic strokes.
Ryan Tanner is originally from Nashville, but now lives in Salt Lake City. 'A Hymn for Me and You' is from his new ten-song LP, These Electric Streets. He self-describes as 'steeped in Springsteen, Lucinda Williams, Steve Earle, enduring, timeless storytellers who keep genre-namers busy.' Ryan was the 2010 American Songwriter Lyric Contest Grand Prize winner for 'I Never Did My Best,' a story of a father's long-endured regret.
You can support deserving independent musicians like Ryan Tanner by visiting his Bandcamp page and downloading These Electric Streets and any of Ryan's previous releases. And be sure to stop by ryantannermusic.com and follow Ryan Tanner on Spotify.