Backyard Star – Two Is Better Than One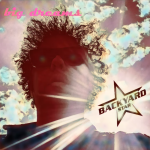 Long ago in a small Methodist church in rural Tennessee… A folk singer, one of those earnest young men they'd trot out on Sunday nights as an alternative to the typical 'Bringing in the Sheaves' turgidity, tried for a bit of Audience Participation: he wanted everyone to clap along on a song, but he wanted them to clap on two and four.
Being familiar with the congregation's demographic – solid Scotch-Irish stock of the Southern Yeoman variety – the folkie knew he was in for a challenge. Still, he gave it the old college try, gamely instructing his listeners in the John Denver Method: stomp your foot on one and three, clap your hands on two and four. Unfortunately, our man was fighting five million years of human evolution. When the Druids hauled the rocks to Stonehenge they were heaving the ropes on one and three, believe me. Within four measures the entire assemblage was both stomping and clapping on the downbeat.
Some people can hit a beat on two and four and others are forever locked into one and three. That's just the way it is. If you sign up for online dating, you'd better put your preference in your profile. Because if you're a two-four person and you match with a one-three person, you are out of luck my friend.
Within bands of the patriarchy, there's a long tradition of bringing in a girlfriend to sing backup and bang a tambourine, and why not? If she says I wanna be in the band then you'd better find someone else to work the merch table because, brother, she's gonna be in the band. You just have to pray she can hit that tambourine on two and four.
In 'Two Is Better Than One,' Backyard Star gets the issue out in the open from the get-go:
Can you play the tambourine
On two and four, not one and three?
That may be the most beautiful, and insightful, couplet in the History of Music. I mean, that just says everything; about music, about love, about the Human Condition. When I watch the Democrats debate, I want to throw them each a tambourine, count off with the drumsticks, and let 'em start bangin' it, baby. I'll bet Beto is a two-four person. Marianne Williamson is definitely two-four. The others I dunno about. Bernie would just smash his fist through it on the first beat.
'Two Is Better Than One' triangulates somewhere between the Rolling Stones, the Beach Boys, and every person who's ever picked up an acoustic guitar and tried to write a love song using D, A, and G chords. That's a good place to live; you'll never be sad and if you get hungry you can eat the chorus. If listening to 'Two Is Better Than One' doesn't make you smile then you really need to put down the game controller and get off the couch. It's a sunny day and people are falling in love! Grab a cheap tambourine and go stand on the corner and beat that sucker 'til your soulmate stops by and starts singing along.
Backyard Star is Matt Fass of Los Angeles. 'Two Is Better Than One' appears on his new fifteen-song album, Big Dreams. The release is a power pop masterpiece full of hooks, harmonies, and great guitars. It went straight to my short list for Album of the Year. Matt sings and plays drums, guitars, and percussion. Big Dreams was was co-produced by Matt and Fernando Perdomo, who provides guitars, bass, keyboards, percussion, and harmonies. On 'Two Is Better Than One' they are joined by Jenny Anderson Fass, who chimes in with a beautiful vocal. Today's track is our second Song of the Day from Big Dreams. We previously featured the album's first single, 'Enemy.'
Big Dreams is available from all major online stores and streaming services. Click here for a complete list of links. And be sure to follow Backyard Star on Instagram, Twitter, and Facebook.
Bonus Track: Last year we featured the demo version of 'Two Is Better Than One.' The track is totally charming, its greatness enhanced by a kazoo solo. For extra credit, compare and contrast the two versions. Use the back of your paper if you need additional space.