Tim Buchanan with Dusk – Grinnin'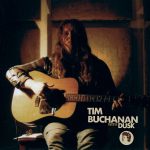 Country music didn't stay country for long. As soon as the Carters could rub two coins together, Maybelle and the girls left A.P. stranded on Clinch Mountain and decamped to the Nashville suburb of Madison, where their neighbors included Hank Snow and Colonel Tom Parker. Johnny Cash was conveniently down the road in Hendersonville. The homes of these early stars and their contemporaries who moved into the exclusive Nashville neighborhoods were quaintly modest by modern standards, but the message was clear: once you make it, you get the heck out of the country and forget about Mama, trains, trucks, drunks, and prison. Loretta Lynn bought a plantation out near Waverly, making any future connection to coal mines purely theoretical, and Dolly Parton — well, the last time Dolly did anything remotely country was when she and Porter Wagoner were hawking Breeze detergent (there's a purty towel in ev'ry box!).
The pedal steel guitar, that most iconic of country music icons, emerged in 1956 with Webb Pierce's "Slowly" but was practically an extinct species within ten years, as the ghostly weep of the steel was replaced by the comforting sweep of a string section. Willie and Waylon tried to drag some country-ness back into the mix, but even they eventually succumbed to repetition and self-parody. If you have to tell someone that you're an outlaw, you probably aren't. Whatever was left of country music's Nashville soul died in 1974 when the Grand Ole Opry relocated from the Ryman Auditorium to a prettily nondescript building in an amusement park way up the Briley Parkway in a big horseshoe of the Cumberland River, taking only a six-foot circle of the old stage as a memento of the past. Today's mainstream country music is a soulless amalgam of same-sounding songs sung by singers who are distinguishable only by their choice of headgear: cowboy hat, trucker cap, or blonde wig.
And here we insert the transition in our documentary, where we are treated to a grainy overhead shot of a VW van rolling down US 101 and the requisite stock footage of hippies dancing in Haight-Ashbury. The soundtrack swells with the Byrds' "One Hundred Years from Now" and the disembodied voice of Morgan Freeman intones, "But country music found a new home…" Long story short, the Byrds released Sweetheart of the Rodeo, proving that a pedal steel and four-part harmonies sound really cool together. Within a few years, every band on the West Coast featured either a steel or a Telecaster with a string-pull device. And because these guys had long hair and big drum sets, their music was called country rock. The old guard in Nashville absolutely hated these newcomers. But after several (some reluctantly) joined in the Nitty Gritty Dirt Band's Will the Circle Be Unbroken sessions, they learned that the royalty checks could be cashed for real American dollars. Money talks and Ralph Emery walks.
But steel guitars and fiddles are just the fringe on a sequined Nudie jacket. The heart of the matter is country music's ability to address the human experience. And it was in the lyrics of musically diverse artists – some folky, some bluesy – who sing to and about people that country music lived and still lives, not in Nashville, but in places like Oklahoma City and Appleton, Wisconsin. Which (finally) brings us to our Song of the Day, "Grinnin'" by Tim Buchanan with Dusk. This is where I'm supposed to describe the song using wonderful turns of phrase and run-on sentences. But I'm not going to do that today. Having already expended my word count, I'll just invite you to find a quiet place and listen to this beautiful song…
"Grinnin'" is real country music, a song that will stay with you long after the final G-chord has faded. And I love the too-brief violin coda.
Tim Buchanan is the (former?) leader of Cherry Death, described on Bandcamp as "his cosmic country punk group often bordering on psychedelia & dirgy folk rock." He is backed on "Grinnin'" by Dusk, who have provided two previous Songs Of The Day, "The Pain of Loneliness (Goes On and On)" and "Hey, Soozie." Today's track is from Tim's solo album, Tim Buchanan With Dusk . . . And On His Own. The album was released last April, but I just found it. Hey, I got here as soon as I could. Tim Buchanan With Dusk . . . And On His Own is a Crutch Of Memory production, recorded and mixed by Dusk bassist Amos Pitsch. It's largely a solo acoustic effort. According to the Bandcamp liner notes, "The solo tracks were recorded in our dimly lit Studio B; bringing to mind – to me at least – the atmosphere of some of my favorite intimate recordings by the likes of Townes Van Zandt, Blaze Foley, Evan Dando, or even the early Willie Nelson." The album includes an acoustic version of "Grinnin'" which is worth multiple listens.
You can support deserving independent musicians like Tim Buchanan by visiting the Crutch of Memory Bandcamp page, listening to his songs, and downloading your favorite tracks. And be sure to follow Crutch of Memory on Facebook, Instagram, and Twitter.
Bonus Video: And speaking of Townes Van Zandt and Blaze Foley, here are Townes and Blaze in a 1984 performance of "Snowin' on Raton."