Gavin M. – Don't Forget Me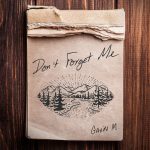 We spend our lives building relationships that give our lives meaning. We spend our lives building an intricate web of these that depict our loved ones.
Alzheimer's Disease and Dementia are the thieves that rob an entire lifetime of these memories and replace it with confusion and heartbreak. This is the story of a married couple walking through that and what their conversation may have been. My hope with this song is to bring awareness to that specific story.
Gavin M. is based in St. Louis, Missouri. His bio describes him as 'a singer/songwriter that has always been fascinated with the power of narrative and its incredible ability to activate our intuition and internal compass to bring a sense of purpose.'
'Don't Forget Me' is available for download on Bandcamp. Other songs by Gavin M. can be found on his Bandcamp page. Visit Gavin M.'s website, and follow him on Facebook, Instagram, and Twitter.