Cedarsmoke – Let the Wind Blow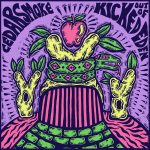 All at once Jukes understood he would have to go. 'Do you think she may?' he screamed. But the wind devoured the reply, out of which Jukes heard only the one word, pronounced with great energy, '….Always….'
— from Typhoon, by Joseph Conrad
The Nan-Shan steamed full-on into a typhoon in the East China Sea. She came out looking as if she 'had been used as the running target for the secondary batteries of a cruiser.' Captain MacWhirr pushed through by pointing his ship straight into the wind and relying on Mr. Rout – good man – to keep up the steam.
Cedarsmoke – perhaps floating in an older vessel in which man was not driven by machine –  take an alternative tack: lower the sails and let the wind have its way. The wind, when ropes have rotted and the fo'c'sle is awash with briny water, will have the last word.
'Let the Wind Blow' is from Cedarsmoke's new six-song EP, Kicked Out Of Eden. The Band is based in Brisbane, Australia which, for those of you keeping score at home, is over there on the continent's far eastern bulge. They self-describe their mission as 'tackling the everyday, picayune things of the average, down and out of luck characters' with 'metaphor-laden lyrics that don't beat around the bush.'
You can support deserving independent musicians like Cedarsmoke by visiting their Bandcamp page, listening to their songs, and downloading your favorite tracks. And be sure to follow Cedarsmoke on Facebook and Spotify.