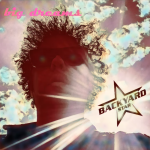 There's nothing wrong with a good pop song and there's nothing wrong with a good love song and there's nothing wrong with a good pop love song. — Reverb Raccoon
I said that, but feel free to steal it, post it on Facebook, and tell everyone that you thought of it first. The world needs to stop listening to sad, depressing songs and start listening to happy songs like 'You' by Backyard Star. It's those sad songs that are making the world sad. Or they're not helping, anyway.
I know that everyone says, 'I'm depressed because I don't have anyone. I'll be happy when I find someone.' No, friendo, you've got it all backwards. Get happy first, then you'll find someone. No one wants to be with a person who's walking around looking like they just found out that Santa Claus isn't real. People want to be with someone who looks they're about to fix up the barn and put on a show! And a great way to get happy is to listen to 'You' a few times every day. If it doesn't make you happy, it can at least be a good primer for how you're supposed to feel when you're happy. Take what you hear in 'You' and fake it til you make it.
'You' ticks all the boxes for me. It kicks off the way every good power pop song should open, with four bars of slashing guitars. It's in G so you can play it for your friends. And it clocks in at two-minutes-forty-one, which is just one tiny second short of the perfect song length. But the best thing about 'You' is that it has a line that I can stick in my phone and pull out whenever I need to smile.
I sent a text just the other day
I sent a playful text your way
It said 'I love you baby can't you see'
With the heart eyes emoji
Did you listen to it? Don't you feel better now? I know that I do! I feel better just knowing that you listened to it, because now the world is a slightly happier place.
Backyard Star is Matt Fass of Los Angeles. 'You' appears on his new album, Big Dreams, fifteen songs full of hooks, harmonies, and guitars. In a righteous world Big Dreams would be a big hit. There isn't a clunker in the bunch. Today's track is our third Song of the Day from Big Dreams. We previously featured 'Enemy' and 'Two Is Better Than One,' a song I fell in love with last year when I heard the demo version. The album was co-produced by Matt and Fernando Perdomo and it sounds great.
Big Dreams is available from all major online stores and streaming services. Click here for a complete list of links. Be sure to follow Backyard Star on Instagram, Twitter, and Facebook.
And don't miss Fernando Perdomo's work in Echo in the Canyon, a wonderful documentary about the music that emerged from Laurel Canyon in the mid-60's, featuring Tom Petty, Brian Wilson, Jakob Dylan, Roger McGuinn, Ringo Starr, Eric Clapton, Stephen Stills, Michelle Phillips, David Crosby, Graham Nash, Jackson Browne, Fiona Apple, Beck, Norah Jones, Regina Spektor, Cat Power, Jade Castrinos, John Sebastian, and Lou Adler. It's available on Amazon.