Farrow and the Peach Leaves – Goddamn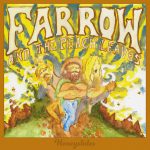 Life can only be understood backwards; but it must be lived forwards.
— Kierkegaard
Need a woman to love me
The last two let me down
But what does love mean, anyhow?
— Farrow and the Peach Leaves
You only need a few notes to tell a story, if you put them in the right order. With 'Goddamn,' Farrow and the Peach Leaves use four chords to paint a revealing vignette of a man's frustration and smoky-eyed hope. A simple G-F sharp-E on the bottom string tells you everything about our hero. You can't get lower than that without twisting the tuners.
'Goddamn' hits that sweet spot between country and rock, where the guitars lose their twang behind the bulge of an overdrive pedal, and the nasally whine of the Nashville singer gets booted to the curb by a worker's weary strength. Think Neil Young's Zuma with Levon Helm on vocals and drums. On the second listen you'll be shouting the chorus from the open window of a phantom mist-green Impala hurtling down Quinland Lake Road.
'Goddamn' is from Farrow and the Peach Leaves' new album, Honeyslides, set for release on May 1. Based in Nevada City, California, the band self-describes Honeyslides as running 'the country spectrum, from smoky honkytonks and strung-out drug runs, to the particular California country grief only found in Nevada County.' Personnel on the album comprises Graham Farrow Knibb (guitars, Hammond organ, vocals), Leif Bo Bonfils (bass, vocals), Zach Peach (drums, vocals), Keith Knibb (electric guitar), and Hunter Jones (keyboards).
You can support deserving independent musicians like Farrow and the Peach Leaves by visiting their Bandcamp page, listening to their songs, and downloading your favorite tracks. And be sure to follow Farrow and the Peach Leaves on Facebook, Instagram, and YouTube.
Bonus Track: 'Heart on Fire,' a rousing rocker from the band's previous album, Country Wednesdays. I love the sound of the drums in front with the slashing acoustic guitars in the back.