Two Songs by Him Horrison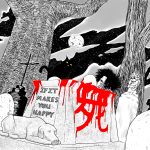 and in the ponds broken off from the sky
my feeling sinks, as if standing on fishes.
– Rainer Maria Rilke (translated by Robert Bly)
Him Horrison etches stark lines on off-white gesso-coated canvas, using minimal figures to invoke the complexity of the human experience, as Cy Twombly conveyed the melding of creativity and tragedy through a pencil-scrawled ORPHEUS. The same stroke creates an image that is relatable yet as ungraspable as cigarette smoke.
'Moon That Never Sets' opens with Allmanesque guitar harmonies, recalling 'In Memory of Elizabeth Reed' while sounding nothing like it. A dragoon traverses Endiness, seeking what we each desire: to unite our transient Body with our existential Soul. If we fail, we are granted another throw of the dice. Not in this life, maybe the next one.
In 'Gimme a Piece (RIP)' we float in a chimeric universe in which we question, not how to prosper, but how to suffer. The shadows are talking to me, about the way I'm supposed to bleed. A solidly airy lead guitar snakes through the track, underlain by a chorus of acoustic chords.
Him Horrison is based in Hattiesburg, Mississippi. 'Moon That Never Sets' and 'Gimme a Piece (RIP)' are from his new twelve-song album, Post Modern Pastiche of Everything. The album's Bandcamp liner notes tell us that it was 'recorded in less than 48 hours amongst my roommates who now hate me but still hmu for relationship advice.' We also learn that the project is about finding inner peace while burning bridges to the past. The theme was explored by Nabokov's Pnin, in which the protagonist desires only to create distance from past tragedies, and to find a little white house, near a big black cliff, free of sonic disturbances.
You can support deserving independent musicians like Him Horrison by visiting his Bandcamp page, listening to his songs, and downloading your favorite tracks. And be sure to follow Him Horrison on Facebook, Instagram, Twitter, and Spotify. March will find Him Horrison, supported by a full band, on a ten-city tour through the flyover region that is the musically-fertile Missouri-Mississippi Valley. Check your local listings for details.
Bonus Video: Him Horrison's haunting cover of Sheryl Crow's 'If It Makes You Happy.' Video by Jeremy Walker.