New Riders of the Purple Sage – Dead Flowers (Live)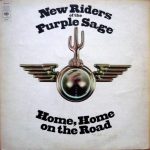 The marriage of rock and country looks like a good idea when the wedding invitation arrives in the US Mail. The patriarch of each family enters the ceremony bearing calloused hands, a bottle of whiskey tucked into the back pocket of his overalls, and tales of plowing the back forty behind a recalcitrant mule and pulling suckers from the burley tobacco. But midway through the reception, someone will pull a gun and put a bullet through the head of his newly-minted brother-in-law.
Bands with hashtag country-rock rarely possess the hyphen for more than a few albums. They invariably have a Glenn Frey vs. Bernie Leadon departing of the waters, or devolve into a Late Poco average pop band.
The classic lineup of the New Riders of the Purple Sage comprised John Dawson (rhythm guitar, vocals), David Nelson (lead guitar, vocals), Dave Torbert (bass, vocals), Buddy Cage (pedal steel), and Spencer Dryden (drums). They created four albums: Powerglide (1972), Gypsy Cowboy (1972), The Adventures of Panama Red (1973), and Home, Home on the Road (1974). In these efforts they pinged between David Nelson's overtly country tracks, usually delivered in an exaggerated drawl, and Dave Torbert's wannabe roadhouse rock. Of the three front line musicians, only John Dawson was consistently able to deliver songs that were country without being annoying, and that rocked without leaving Buddy Cage grasping for something to do – which was sometimes the case with Torbert's songs, when Cage seemed to say, 'I'm just gonna hit the fuzz box and fuck around for the next three minutes.'
As was inevitable, Torbert splintered off in 1974 to pursue his Rock Dreams with Kingfish. With his departure, the New Riders lost a vital conceptual counterbalance against the twangy side, and half of a rhythm section – along with drummer Dryden, formerly of the Jefferson Airplane – that was solidly rock.
The classic NRPS never produced a great album, as they always managed to include a few tracks that kinda sucked. Their most commercially successful effort, The Adventures of Panama Red, was also their least interesting. Their best songs are collected in my Spotify playlist. Sharp-eared listeners will note that the list includes the entire second side of Gypsy Cowboy, one of the top five greatest album sides ever pressed. I won't bother saying 'arguably' or 'in my opinion.' I'm right and you know it, Wally. The playlist is dominated by Dawson's work; let's face it: if you bought a New Riders album, it was to hear John Dawson's songs. He was one of the greatest singers and songwriters of the early 70's, a fact that is rapidly being forgotten.
On the last album in which Dave Torbert participated, Home, Home on the Road, the New Riders captured their best country-rock performance: a cover of the Rolling Stones' 'Dead Flowers.' The track has everything that made country-rock an appealing concept: solid but restrained lead vocal by Nelson, tight three-part harmonies, magical pedal steel, interplay between Cage's steel and Nelson's string-pull Telecaster, and a driving rhythm from Torbert and Dryden. Listen for Dave Torbert's wonderful bass lines on the instrumental break.
As a live performance, the track is perhaps too good to be true, especially when compared to similar-era live performances of the song that can be found on YouTube. One suspects that Home, Home on the Road was significantly 'enhanced' in the studio, which was a common practice in the mid-70's. Huge chunks of albums such as Frampton Comes Alive, CSNY's 4 Way Street, and Kiss's Alive! were recorded far from the maddening crowd. But you know what? No one cares. A great record is a great record, whether it's made in the Hollywood Bowl or in an empty warehouse.
Nelson and Cage are, sadly, the last remnants of the classic New Riders personnel. Dave Torbert, Spencer Dryden, and John Dawson passed in, respectively, 1982, 2005, and 2009.
The entire New Riders of the Purple Sage catalog is available on Spotify. And be sure to check out the official NRPS website and follow the band on Facebook and MySpace (whatever that is).