Little Waters – I Am Holden Caulfield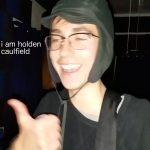 The demons that followed Holden Caulfield like ducks behind their mother don't end their stalking when the high school sheepskin is handed over. Lean out of your corporate cubicle and you will see Bernice, Marty, and Laverne scavenging for doughnuts in the break room, and hear the stealthy tread of Stradlater hunting you down to remind you to put the new cover sheet on your TPS reports.
'I Am Holden Caulfield,' by Little Waters, summons the specter of that overplayed meme, teenage angst (male variant), but the song addresses the disquiet that is simultaneously universal and distressingly specific. The singer could be a sixteen-year-old suburbanite in his natural habitat – his bedroom – or the singer could be a sixty-six-year-old man strapped to a bed in a nursing home.
'I Am Holden Caulfield' is a mass of slashing guitars competing with a vocal that displays that little known quantity, genuine emotion. And where one expects a solo from a crappy synthesizer, we get Andrew Bird-like whistling.
'I Am Holden Caulfield' is the title track to Little Waters' new thirteen-song album. Based in Boston, Little Waters claims (in a DM) to be 'a sixteen-year-old suburbanite that likes to write songs and record 'em.' But there's a musical maturity in the tracks; I would not be shocked to learn that Little Waters is a twenty-something world-weary journeyman who's been lugging his guitar to gigs for a decade.
The Bandcamp liner notes for I Am Holden Caulfield list the following credits: 'produced by Little Waters, all songs written by Little Waters, guitar was me, bass was also me, vocals were me, violin was me, drums [on most tracks] were my computer…' And amongst those thanked: 'heartbreak for the song ideas, depression for the music, and jesus for the lyrics.'
You can support deserving independent musicians like Little Waters by visiting his Bandcamp page, listening to his songs, and downloading your favorite tracks. And be sure to follow Little Waters on Instagram and Soundcloud.