Vassals – Drawings of Wildflowers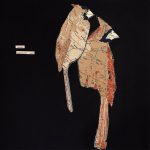 A landscape does not exist in its own right… It is only the surrounding atmosphere which gives subjects their true value.
— Claude Monet
In 'Drawings of Wildflowers,' Vassals surrounds the simple scenario of a couple hanging pictures with an atmosphere of loss and lost hope, bright portraits of past happiness replaced by the gray and the mundane, the space above the piano that once held a reminder of that special weekend now covered by the torn poster of Monet's Poppy Field in Argenteuil that is found in the far corner of every dormitory room.
dolly won't you take our photo
take our photos down
i've got charcoals, handmade posters
drawings of wildflowers
pictures of your hometown
The track has the classic aura of timeless refinement. You can see the cigarette smoke rising from the fingers of the diners at the tables near the stage, the lazy wisps caught in the footlights as the lounge singer delivers 'Drawings of Wildflowers,' a song she learned from the soundtrack of David Lynch's Blue Velvet.
'Drawings of Wildflowers' is from Vassals' new thirteen-song album, Demarcation Lines. Based in Brooklyn, Vassals self-describes as 'a band that embraces the loud/quiet dichotomy of the 90s through the lens of 60s rock and psychedelia.' We previously featured 'Bracelet of Teeth,' a solo project by Vassals lead singer Cassette Spence. The track made our prestigious list of the Best Songs of 2018.
You can support deserving independent musicians like Vassals by visiting their Bandcamp page, listening to their songs, and downloading your favorite tracks. And be sure to follow Vassals on Facebook, Instagram, Twitter, and Spotify.
Bonus Track: 'Walking Backward,' a beautiful rocker that should be the highlight of any live show. You know it's good because it has handclaps.