Jason Steady: An Independent Musician's Thoughts on Touring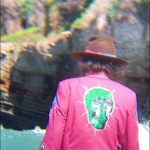 I am a freelance artist, carpenter, and handyman in Omaha, NE. It doesn't pay very well, but I spent my 20's planning ahead instead of wishing I was dead. I saved a lot of money, though I didn't understand why. Retirement was the go-to justification. A few years ago, I decided to blow it all on touring. I certainly had a blast, and I tried to bring others along who might also have that blast, but also people I cared about and wanted to get to know better. A road trip is always the best way to get to know people.
Booking and then going on a tour is difficult. It literally takes three months to book, and the cooperation of everyone involved once you're on the road. For the very small and independent musician, it is not a money-making venture. Over the course of the last three years or so, I meticulously documented the cost and profitability of touring to try and minimize cost and maximize profit. It's not easy. This has involved traveling with the smallest group possible, turning the van into a makeshift camper, and eating crappy food, among many other things. A tale as old as time for anyone who has gone through it.
While on the road, I try and do most of the driving, cover any gas that isn't paid for by the shows, and provide one 'band meal' a day. It usually costs me $2000-$4000 from my Young Jason savings, and that's after the money taken in from shows and merch sales. That cost also involves sleeping in parking lots and other not-ideal situations, but that's adventurous for me. Stealth Camping they call it. If there is money in the Baby (a zippered pouch) at the end of the tour, we split it. This requires my quiet disregard of the $2-4K I had to pull from savings each time, as well as the fact that all the work to organize it falls on me. Of the five tours I've done in three years, there was money in the baby twice.
If you're in a band or making music just to make money, you will be disappointed most of the time. Regardless of your measure of success, my musical endeavors are not successful. But I enjoy singing and playing a guitar, existential discussions in the front seats, making new friends, and seeing things I've never seen before. I feel successful when I get to do these things, particularly with friends.
To offset low payouts, canceled shows, and long drives, I like to try and make it an adventure. The definition of adventure is certainly different for everyone, and the sacrifice and discomfort of living in a van for weeks at a time is not for everyone. It's tough, man. I can't even begin to explain how grateful and appreciative I am of anyone who comes with. I try to make it fun; I try to show people parts of the country they've never even thought about before.
I'm sorry if anyone had an awful time or feels cheated, slighted, and/or fucked by the whole thing. Art is hard, man. I just wanted to see the country with people I love and care about. I tried to make it fun, but it's pretty well known that touring, um, really kinda sucks. I'll probably keep doing it; I have a little bit of 'retirement' money left. Let me know if you'd like to go sometime. The country is truly beautiful and I've found some wonderful nooks.
This last tour, Chris Twist and I stopped in at Molly's Bar outside Albuquerque to say hello to Steve. We ended up drinking and talking about Coast to Coast with some locals until closing time. Outside, four of us sang some country song with no instruments or anything. Darned if I remember the song. We ended up exploring the wooded area nearby and sleeping in the parking lot. And here's a song about this sort of thing.
So long, Omaha. You've been wild.
This article is based on tweets made by Jason Steady, August 25-26, 2019 as he prepared to leave Omaha, Nebraska for a new home in Twentynine Palms, California.