Five Songs to Brighten Your Friday Lockdown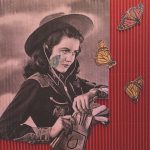 Jukes, held with his head in chancery, had to listen to what seemed horrible suggestions.
'Don't want… you get lost… so long… ship isn't… Rout… Good man… Ship… may… through this… all right yet.'
All at once Jukes understood he would have to go. 'Do you think she may?' he screamed.
But the wind devoured the reply, out of which Jukes heard only the one word, pronounced with great energy '….Always….'
— Joseph Conrad, Typhoon
Typhoon, written two turns of the century ago, describes a steamer – the Nan-Shan – encircled by a typhoon in the South China Sea and besieged by walls of wind and water that threaten to carry away the wheelhouse, the crew, and every hint of the ship's existence. The Nan-Shan will survive if the helmsman can keep the bow pointed into the wind, and if the chief engineer – Rout, good man – can keep up the steam. Beyond those measures, the crew can do little but hang on in a below-deck bunker.
Today we are besieged by the force of an invisible pathogen. Like the crew of the Nan-Shan, our only duty is to take shelter and fight back the waves of fear and frustration that threaten to drown us from the inside. But our chief engineer is a man of dubious credentials who nevertheless manages to produce prodigious quantities of steam. As often happens with soldiers in battle, many of us have lost track of time as each lockdown moment blends with the next and the previous. But according to my calendar, today is, in fact, FRIDAY! And thus we present Five Songs to Brighten Your Friday Lockdown.
Little Waters – Rodent
'Rodent' pulls out a pot of bluesy Hammond B3-driven rock and infuses it with hip-hop vocal cadences and phrasing. The result is a powerful brew that rhymes squirrel with girl. This is Little Waters' second (or perhaps third) appearance in these pages. Last year we featured Little Waters' 'I Am Holden Caulfield.' And Little Waters was the producer for Sam Simpson's 'Oranges,' another song of the day from 2019. The music of Little Waters is available on Bandcamp.
The Mary Anns – Someday (I'll Rest)
Based in Bellingham, Washington, the Mary Anns are Skylar, Serafima, Skylar, Elijah, and Ben. 'Someday (I'll Rest)' is honest country-folk that casts forward to a day when we can all relax just a little bit, even if we can't close our eyes completely. Enjoy the vocals and the subtle, non-annoying fiddle. And listen for the nice change at two-minutes-forty. The Mary Ann's music can be found on Bandcamp. Insert Ginger joke here.
The Suncharms – Monster Club
Last October we trundled around to our neighbors' front doors and begged them for candy, which they passed out by the grubby, unwashed handful. Today, we would be more horrified by that practice than we would be if the spooks we portrayed appeared before us. The Suncharms gaze back on those innocent times with the jangly melancholy of 'Monster Club.' The Suncharms' music is housed in the haunted halls of Bandcamp.
Rain on Fridays – No Feet Mailman
Rain on Fridays is Jesse Miller and Madison Coe of Sand Diego. They self-describe as a female fronted indie emo rock band that makes happy sounding songs about sad things filled with thoughts and wonders and all that other poetic shit! The band rocks, which doesn't mean they can't sing. On the 'No Feet Mailman' the pair puts away the electrics and generates a wirefull of electricity with some blasting harmonies. This is a talented band that bears further inspection. Please join me in browsing their discography on Bandcamp.
Summerooms – Peace of Mind
'Peace of Mind' is the perfect song for a stressful Friday. The song is timelessly easy, a track from a lost Richie Furay album or maybe something by that band that opened for the Eagles before they were famous. Summerooms is Joshua Aubrey Jackson of Opelika, Alabama. We've been a fan of Josh for a while now: he's scored two songs of the day as Make Sure ('Deal Breakers' and 'I Thought I Could Do Better Than You'), plus another as Summerooms ('Pull Apart'). The songs of Make Sure and Summerooms are available on Bandcamp.
And there we are: five songs that will help you endure the lockdown as the pathogenic storm passes overhead. So stay safe, stay clean, and support deserving independent musicians like the ones featured here. All songs showcased on Reverb Raccoon are guaranteed 100% free of microscopic invaders, and can be downloaded or streamed touch-free without the use of protective garments. Happy Friday, folks!