Make Sure – Deal Breakers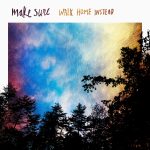 Youth is happy because it has the capacity to see beauty. Anyone who keeps the ability to see beauty never grows old. — Kafka
My first four albums covered the usual youth problems – looking for love in all the wrong places – while the next five are basically about being in your 30's. — Joni Mitchell
My college writing professor, a fantastic old Welshman named Jon Manchip White, believed that poetry should be written only by the young and vulnerable, those still able to translate their own emotions into lyrical verse. With age, he said, we lose our lyricism and become cynical critics of the feelings of others.
The most insightful evocations of the sentiments that swirl through a relationship are penned by those barely old enough to legally purchase the alcohol required to celebrate the joy of love's inception and deaden the pain of love's loss. Make Sure continues that tradition with 'Deal Breakers,' an eloquent and elegant testament to a failed relationship, recalled with a twenty-year-old's innocent wisdom.
And all of the glory and shame
That I'd seen in two decades
Pulled me up, pinned me down
And you'll forget I was around
'Deal Breakers' is a wonderfully-written suite, a song of singular grace and beauty. Though the musical map is nominally simple – a couple of verses, a chorus – the listener is led along a series of waypoints, each presenting a fresh and delightful image of sound. The easy strength of the vocal lends 'Deal Breakers' a purity that matches the poetry of the lyrics.
Make Sure is Joshua Aubrey Jackson of Opelika, Alabama. 'Deal Breakers,' composed by Josh and David Bizilia, is from his new eleven-song album, Walk Home Instead. The release is a magnificent effort, going immediately onto my short list for Album of the Year. The album's Bandcamp notes describe the collection as anti-emo emo songs: 'Through the lovelorn musings and the sting of breakups, Jackson's focus remains on things greater than shame or the mere feeling of heartache.'
Walk Home Instead is available on Bandcamp, Spotify, and Apple Music. Follow Joshua Aubrey Jackson and Make Sure on Instagram. And check out Joshua's other projects, Summerooms and Fiery Crash.