The Umbrella Puzzles – As Simple as That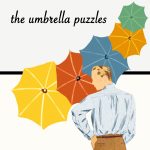 For many years, when asked to name my favorite song of all time, I have had a ready answer: Neil Young's 'Winterlong.' I once told someone that if they listened to 'Winterlong' – the version that appears on Decade – they would then understand everything that I love in a song.
'Winterlong' ticks all of my boxes: guitars, heavy in the lower register, with that P-90 sound that straddles the chasm between the humbucker's heat and the Telecaster's twang; a pedal steel played like a pedal steel, not like a glorified slide guitar; vocal that conveys more emotion than refinement; harmonies captured in first-take spontaneity.
Which means that I can intellectualize why I like 'Winterlong.' But why do I like 'As Simple as That' by the Umbrella Puzzles? I don't know, and I've spent the better part of the past three days trying to come up with some Kierkegaardian approach to an answer. All I know is that the song is stuck in my head and that I smile when I hear it.
'As Simple as That' sounds like something played by that band down the street, the one with the really good guitar player who can sing a little. When he needed a drummer and bassist, he could have called better players but he called his friends. He had to strap on the bass and show his buddy what he wanted him to play, which was cool even though his friend sometimes plays a bit ahead of the beat. I pulled out the cheap acoustic and tried to work out the chords – D, Bm, G, A – just in case I'm ever, you know, asked to join the band on rhythm guitar.
The soul of the song is a chiming guitar riff, a little bit Byrds but a little bit better. 'As Simple as That' is no wall of sound; each note rings true and there's enough space in the mix to hear the fingers on the frets. Listen as the guitar player steps to the edge of the stage at two-minutes-thirty-five for a solo that summons the undead ghost of Roger McGuinn.
The Umbrella Puzzles is a solo project of Ryan Marquez, based in Richmond CA. 'As Simple as That' appears on his new six-song collection, The Umbrella Puzzles EP. Ryan describes the release as 'a lo-fi jangle pop excursion with songs about dreams, realities and frailties.' Regular readers of Reverb Raccoon know Ryan as a member of Golden Teardrops whose songs, 'You're Keeping Me Waiting' and 'I Can't Let You Slip Away,' were featured last year. The latter made our list of Favorite Songs of 2018.
The Umbrella Puzzles EP is available on Bandcamp, Spotify, and Apple Music. Be sure to follow the Umbrella Puzzles on Instagram. And follow Ryan Marquez on Twitter, and Golden Teardrops on Facebook.