Reverb Raccoon's Favorite Songs of 2018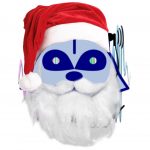 Today in history marks 294 days since the inception of our Song of the Day feature. During that span, we made 162 posts, each featuring a song by an excellent, under-recognized musician. Our original intent was to compose a few well-written paragraphs each day about a track that the world needed to hear. As the days progressed, the sentences – and the space between posts – got longer. We didn't post every day, and the latter posts sometimes lacked composure. But we're going to declare victory anyway. The amount of Good Music being created each day in bedrooms and home studios is staggering. I was fortunate to hear a fraction of it. Here, in no particular order, are my favorite Songs of the Day from 2018…
Lo-Fi Ho – Now You're Here
"Now You're Here," by Lo-Fi Ho, is the track that started it all. I'd been kicking around the Song of the Day idea for a while; this is the song that made me get up, walk down to the computer, and write. I don't know how much is real vs. sampled, but it's a great song with a piano riff that's been stuck in my head since February. "Now You're Here" inscribed the template for future Songs of the Day: a self-recorded track – often by an outsider – that is flung out onto Bandcamp where I could discover it in the New Arrivals section. Lo-Fi Ho is now going by Veronica Voyeur. Change is Good.
Allison Keil – For Autumn
Our second Song of the Day (no, I'm not going to list all 162 SOTD's) was the track that made me realize how much great music is floating around waiting to be caught and appreciated. On the surface, Allison Keil's "Autumn" is a crappy recording made in a dorm room in Salzburg, Austria. But below the technical limitations we discover a beautiful purity, Daniel Johnston with a much better voice. Plus, Allison likes my Instagram posts. She's relocated to Portland where her talent will, it is to be hoped, grow and find a wider audience.
FreeThinker – Pineapple Sticknpoke
I love singers who just lean back and let it rip, and Molly Giessing is one of the best rippers I've ever heard. FreeThinker's "Pineapple Sticknpoke" is arguably my favorite song of 2018. This is the one I turn to at random times during the day, and every time I hear the track I'm amazed at the power and exuberance of Molly's delivery. I've listened to this track more than any other song this year, in part because every time I dial it up I have to hit the replay button at least once.
The Stillvettas – Mountain
And speaking of singers who let it rip, the Stillvetta's Quinton Rundell can hit the back wall and a few cars in the parking lot. Throw in some beautiful guitar work by Thayne Yazzie and the Stillvetta's "Mountain" becomes another one of those go-to tracks that I've searched for and clicked on many many times this year. The Bellingham, WA band was brand new when I discovered them, and they seem to be doing well. Hope to see them live someday.
Cowboy Grizzly – Wash Away and Just a Day
Mockingbird, the debut album by Cowboy Grizzly (Grant McMahan) gets my vote for Album of the Year. An absolutely stunning effort, any one of the album's nine tracks could have been a Song of the Day. In an age when individual tracks have taken precedence over LP's, Mockingbird should be appreciated in its entirety. By only featuring two tracks, I feel like I've slighted the other seven. Grant has relocated from Arlington, TX to Austin. You will hear more from him in the future.
Shay Spence – Bracelet Of Teeth
You know a song has spoken to you, personally, when you imagine yourself as the singer, delivering the lines to… who knows? A ghost maybe? Shay Spence's "Bracelet Of Teeth" features those reach-out-and-grab-you lyrics that paint a vivid portrait of the human condition.
marcy, I think you're doing it on purpose
taking all my words and turning them to torches
and bending up my circuits
almost like a smile, almost like I'm worth it…
And, if it matters, I think my write-up was pretty good, too. Shay is now known as Cassette Spence. She fronts the NYC band, Vassals.
Dazed – Bubblegum
Sometimes you don't need an entire song. Sometimes all you need is a couple of lines, like this pair from Dazed's "Bubblegum:"
I guess it's funny how my record collection knows more about me
Than you have ever done

That's one of the best post-breakup lines I've heard. And if I wasn't already in a wonderful, totally permanent relationship, I would write it on a scrap of paper and stick it in my wallet for future reference.
Bacon Hammer – The Arms of Jesus
And speaking of a couple of lines being enough, we can't forget this gem from Bacon Hammer's "The Arms of Jesus:"
If Jesus had a gun
I'll bet the masses would have made more donations
When the members of Bacon Hammer aren't making hilarious holiday songs, they are making beautiful music as Yellow Dog. Check out their album, She's a Ghost. Eleven tracks by Greg Jarrow and Charlie Auer that float somewhere between the Byrds and David Crosby's If I Could Only Remember My Name.
Dog Mom – Blue
The first time I heard Dog Mom's "Blue," I turned to my awesome wife and said, "This is a great song; I just wish she'd tune the guitars" and moved on to the next track. A few days later, I caved: a good song is a good song and "Blue" is too good to pass up. What's a little dissonance between friends? A raw but major talent, Dog Mom (Kim Locke) wields her haunting vocals and stark arrangements like a barely-concealed switchblade. I'm proud to be one of Dog Mom's early adopters. Look for a new single in the coming days. Kim's also a good Twitter follow.
The Green Mushroom Band – Don't Disappear
I'm a sucker for pretty songs of unrequited love (who isn't?). Maybe that's why it took me so long to requite that beast. The Green Mushroom Band's "Don't Disappear" is one of my favorite examples of the genre. Wistfully delivered by Riccardo Stura and Chiara Cortese, the track features something else of which I'm a sucker: real honest-to-god horns. Arranging horns is a lost art, probably because the best arrangers couldn't read music, much less score out the notes. Another track that I dial up habitually, "Don't Disappear" should have been a huge hit in 1973.
Golden Teardrops – I Can't Let You Slip Away
And speaking of horns, "I Can't Let You Slip Away" by Golden Teardrops features an excellent horn arrangement, but of the (I think) synthesized variety. I'd love to hear this performed live with, say, the Tower of Power horn section or the Memphis Horns (probably dated myself on that one). But the real stars of this show are Lei Marquez's softly powerful vocal – especially the high notes in the bridge – and the galloping guitar of Ryan Marquez. The duo makes Retro feel as fresh as Tomorrow.
theCatherines – Every Time You Say It's Okay I Know It Is Okay
Like Golden Teardrops, theCatherines (Heiko Schneider and Sandra Ost) provide a modern take on the jangly pop of years that are retreating in the rearview mirror. The Byrds, the Mamas and the Papas, and the Association all receive a passing nod. theCatherines appeared in these virtual pages five times during 2018 (a record!), with "Every Time You Say It's Okay I Know It Is Okay" representing our initial encounter. The track is also noteworthy for being one of the better posts by Fluffy the Cat, who thinks every song is about looking out the front window at the people on the street.
Christopher James – Mount Kisco Moon and So Long and Goodbye
Chris set out to record a song each day in the month of May. He didn't make it – just as I didn't publish a post each day – but the seventeen tracks comprising In the Month of May represent a fine collection of demos that may someday become an excellent album. I was lucky to get in on the ground floor, and featured three of the tracks. "Mount Kisco Moon" will resonate with anyone who has been stuck in a zone of comfort. "So Long and Goodbye" is a personal favorite as the write-up was one of my better efforts. Formerly frontman for Art School Dropouts, Chris is performing with a "new" band: the reformation of his first band from high school. So perhaps he's simultaneously moved on and stayed put.
Steven Lipsticks and His Magic Band – The Nest
"The Nest" is existentially similar to – but musically quite different from – Christopher James' "Mount Kisco Moon:" the examination of a situation that brings both comfort and a desire to escape. Steven Lipsticks and His Magic Band (Stefano Rossetti) joins theCatherines in the five-timers club, his first appearance being way back in 2015 when we asked the burning question, "Why Isn't This Guy Famous?" As he proves in "The Nest," the issue is clearly not lack of talent. The write-up represents one of my better late-stage posts, created after I had watched The Royal Tenenbaums perhaps ten too many times.
The Ruby Palms – Cleopatra
I saved one of my absolute favorites for last. The Ruby Palms' "Cleopatra" rocks with a musical lyricism that is instantly recognizable yet will get you out of your chair each time you hear it.  This is the music that every kid who ever picked up an electric guitar aspired to make. And every kid who ever picked up a tennis racket would be happy to stand in front of a mirror and do the air guitar thing while this track blasts away from his bedroom bookshelf. Tremendous vocal. And it has handclaps in the rhythm track, so you know it must be good.
And there, as they say, you have it: a handful of tracks pulled from the 162 Songs of the Day featured this year in Reverb Raccoon. And the remainder? I guarantee that every one is worth several listens. If you don't believe me, go to my Archives page and click on any random link. The music you hear will amaze you. And be sure to follow Reverb Raccoon's Song Of The Day playlist on Spotify.
You can support deserving independent musicians like those featured in Reverb Raccoon by purchasing and downloading their songs, or by ordering their CD's and cassettes. Or, if money's an issue, just send the artist a note of encouragement. And always share your discoveries with your friends.