Golden Teardrops – I Can't Let You Slip Away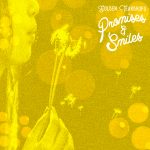 "I Can't Let You Slip Away," by Golden Teardrops, is a wonderful blast of sun, fun, and shimmering positive energy. When you hear this song, you will smile and multiple parts of your body will move. If this prophesy does not come to pass, please email me and we will discuss what your Major Malfunction is.
"I Can't Let You Slip Away" opens with a galloping guitar, then pauses for the opening verses before launching into the chorus. This is the point at which you will start to move, so make sure you have some room. This is also the point at which we realize that singer Lei Marquez has a major voice in her. Don't be fooled by that wispy Melanie act. Listen for the bridge, where she reaches up and plucks a note off the top shelf.
Golden Teardrops, based in Richmond, California, is the aforementioned Lei Marquez (vocals) and Ryan Marquez (guitars, bass, keyboards, and songwriting). "I Can't Let You Slip Away" is from their new album, Promises and Smiles, released today by Emma's House Records. The album comprises twelve tracks of 60's-inspired music laced with overtones of indie pop. Lei and Ryan describe the collection as "a love story, where lovers continue to discover new things each day. A reflection of the past whilst staying in the moment, with plenty of good vibrations in between." If Promises and Smiles is an accurate indicator, Lei and Ryan are extraordinarily happy together.
Reverb Raccoon previously featured "You're Keeping Me Waiting,"  released as the B-side to the single, "For a Rainy Day." In my opinion, "I Can't Let You Slip Away" is the best song on the album (you really should consult me on these things). But there are no clunkers here. I could tap this album for my next twelve Songs of the Day.
You can support deserving independent musicians like Golden Teardrops by visiting the Bandcamp page for Promises and Smiles and downloading the tracks or ordering the compact disc. And be sure to follow Golden Teardrops on Facebook, Twitter, and Instagram. They like pictures of cats.
And to learn more about the many fine releases from Emma's House Records, visit them on their website and on Bandcamp, and follow Emma's House Records on Facebook, Twitter, and Instagram.