Reverb Raccoon's Best Christmas Songs of 2018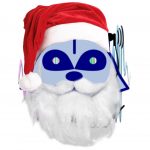 Crank up the Wayback Machine, Mister Peabody…
I attended an elementary school that was flanked on the east by military surplus tarpaper-sided shacks that had been hauled in decades before to house the flood of students lured into a godforsaken state college by the GI Bill, and bordered on the west by a swampy field that hosted the transmission tower of a radio station. On good days you could stare from a window and imagine the result of a snapped guy-wire, the metal tower losing its balance and crashing into our school, gifting us a few days of freedom while the Civil Defense workers sifted through the rubble in search of our Little Hands pencils and Big Chief writing tablets.
The school had been constructed, like a Medieval cathedral, in the shape of a cross. On the day that commenced Christmas vacation, all of the classes would gather at the building's nexus, surrounding a large cedar tree that had been decorated by the eighth graders. Each class would regale its colleagues with a holiday song while a student teacher from the neighboring college pounded out an accompaniment on a piano that came over on the Mayflower and had not suffered a tuning since the local piano technician had his head taken off by a Yankee cannonball midway through Pickett's Charge.
As a first grader, my classmates and I were charged with belting out "Rudolph the Red-Nosed Reindeer." In the weeks of rehearsals leading up to the big show, our teacher, Mrs. DuBois – pronounced DEW-boize in our neck of the Tennessee woods – energetically reminded us after each rendition: "It's POOR Rudolph! Not PER Rudolph!" And when the event came to pass, we dutifully sang…
They never let PER Rudolph
Join in any reindeer games
I would be happy to report that the entire school erupted in laughter. Unfortunately, we received only a few giggles as the majority of the attendees – including most of the teachers – were perfectly happy with our pronunciation. Today we celebrate a few seasonal songs that are better sung and more accurately pronounced than that long-ago anthem to a well-lit ruminant.
Backyard Star – It Never Snows in LA
The best Christmas songs are, as Andy Bernard said of "The Little Drummer Boy," bigger than Christmas. Backyard Star's "It Never Snows in LA" is a great song whether it's cold outside (baby) or hotter than the inside of a minivan in the parking lot of a Houston Walmart in August. Massively perfect harmonies layered over a slightly retro Tom-Petty-meets-38-Special arrangement makes this the perfect stocking-stuffer for that pop music fan on your list.
Backyard Star (Matt Fass with help from Trevor Stone and Fernando Perdomo) previously entered the Nice column of Reverb Raccoon's ledger with "Two Is Better Than One," which featured the most touching couplet that I've encountered:
Can you play the tambourine
On two and four not one and three?
Isn't that what everyone is searching for? Well, everyone except me. My awesome wife can not only hit the tambourine on two and four, but she can also play the bass and trumpet. So there.
theCatherines – Santa Claus is Coming to Town and Let It Snow
On December 26 you will be dialing up your home insurance agent to file a claim for a new roof. Because your house's crossbeams will crumble under the weight of Santa's sleigh, overloaded with copies of theCatherine's new seven-song EP, Teeny-Tiny-Xmas. theCatherines (Heiko Schneider of Hamburg, Germany) have created new takes on old classics, affixing their beautiful stamp to your holiday favorites like "Santa Claus is Coming to Town."
In a simpler era, theCatherines' tracks would have appeared on a Goodyear Great Songs of Christmas album, sandwiched between Mitch Miller's "Away in a Manger" and The New Christy Minstrels' "Wassail, Wassail All Over the Town." Also of note: "Let It Snow." In the spirit of the season, we'll give that one a spin, too.
Steven Lipsticks and His Magic Band – 25 (Handmade Lullaby)
Americans spend the majority of the holidays numbly staring into the deathly gloaming of a television, beer in one hand and a greasy glob of leftover turkey in the other, sinking inexorably into an overstuffed couch while alternately flipping between A Christmas Story and a low-tier college football game of no conceivable interest to anyone whose brain still carries a spark of intelligent life.
Europeans, being more inclined to socialism, spend the holidays in raucous merriment, carousing in taverns with their friends and hoisting steins of gluhwein brought forth by tight-bodiced serving wenches while yelling Huzzah! as the Yule Log blazes away in the fireplace and a tuberculosis-ridden waif shivers outside, clad in rags while standing in ten meters of fresh-fallen snow. At least that's the picture one derives from descriptions of the night preceding George Washington's day-after-Christmas victory over the Hessian mercenaries at Trenton.
In "25 (Handmade Lullaby)" Steven Lipsticks, being of the European persuasion, reminds himself that if he's alone on Christmas he's probably messed up somewhere along the way.
Steven Lipsticks and His Magic Band is Stefano Rossetti of Bologna, Italy. He is a frequent visitor to these pages, as he frequently makes music worth writing about. "25 (Handmade Lullaby)" is included on A Polaroid for Christmas 2018, an eighteen-track compilation of seasonal tracks to which you may listen while decorating the Christmas tree or while hiding under the bed to avoid being flogged by Belshnickel. Stefano's new release includes "Christmas Thieves (Let It Snow)," a charming ditty about about having your house broken into, which appeared on A Polaroid for Christmas 2015.
Team Tree – Oh Come All Ye Faithful
And finally, for those who are still with me, a song that I stumbled upon while searching for something else: Team Tree's beautiful presentation of the classic "Oh Come All Ye Faithful."
The singer with the magnificent voice is – I think – Sarah Lee of Vancouver, BC. That's about all I can tell you about Sarah or Team Tree. I found her on Twitter and Instagram, but there are no posts after 2015. You can hear more of Sarah's amazing music on YouTube and Soundcloud.
All of us here at Reverb Raccoon would like to thank the artists who made 2018 a special year, full of music and creativity. Your music, written and recorded in bedrooms and home studios, and thrown out there for the world to discover, has enriched my life and the lives of both of my readers. Merry Christmas!