theCatherines – If you don't have a clue please get out of the line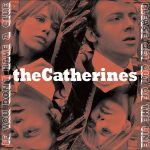 Eli: I'm not in love with you any more.
Margot: I didn't know you ever were.
Eli: Let's not make this any more difficult than it already is.
Margot: OK.
Eli: OK, what?
Margot: OK, I'm not in love with you either.
— The Royal Tenenbaums
Breakups are easy in the movies, that once-celluloid Neverland where couples part bearing wistful half smiles and Meet Cute five years later without bitterness or the long-held desire to kick the other party in a rather painful place. theCatherines' latest life lesson is a love letter to that lover who wouldn't leave, that special someone who hates you yet hates to break up, who refuses to get out of the line and let you get on with your life, sending your relationship into that limbo of the Undead where it drifts unhelmed like the Mary Celeste, a ghost ship with no life boat and the oakum leaking just slowly enough to let you foresee your fate long before the gunnels are awash and the rats swarm out of the hold and up the ironically-named ratlines. It all sounds very dark until you throw in a pile of jangly guitars and harmonies, which is why we all end up there someday, lured in by a Sweet Siren Sound then boiled alive slowly like the proverbial frog in the pot of water.
theCatherines have a My Sharonian knack for taking a simple idea and transforming it into the wonderfully witty pop that the world needs for daily sustenance. Every song does not need to be "The Revealing Science of God (Dance of the Dawn)" aka Side 1 of Tales from Topographic Oceans by Yes. Sometimes, as my Nana used to say, "All you need is a good pop song" which my Nana never said as her idea of Good Music was "Bringing in the Sheaves" performed without accompaniment after the guy who led the singing got kicked out for using a pitch pipe. But I'm sure she would have enjoyed "If you don't have a clue please get out of the line" by theCatherines.
theCatherines are Heiko Schneider and Sandra Ost of Hamburg, Germany. Describing the making of "If you don't have a clue please get out of the line," they tell us: "So we were kinda in a powerpoppy mood last nite… writing and recording so fast we sang some ad-libbed nonsensical silly English… but it sounded good so we let it stay." The result immediately brought to mind "Windy" by The Association but backed by Billy Bremner on guitar, and of course the line Honest i do and i cherish you all is a hidden clue that they had been listening to The Association: Greatest Hits. Right?
"If you don't have a clue please get out of the line" marks the twenty-second single by theCatherines, more than enough for an excellent album. And before you reach for the email link (which doesn't work, anyway), I counted "Every time you say it's okay I know it is okay / Yes you're beautiful to look at but so ugly inside" as two releases. All were recorded "with one simple dogma: every song-recording should take no longer than one (sometimes two :-0 now even three) evening(s) of joy, wine and cigs… ;-)" This marks the fourth time we have featured theCatherines in these virtual pages, which ties them with Steven Lipsticks and Mike Herz for Most Appearances in a Music Blog Named for a North American Mammal. And in case you missed it, here is a Bonus Song of the Day from theCatherines, "Sorry, But Your Suicide Note Is Really Funny."
You can support timelessly iridescent independent musicians like theCatherines by visiting their Bandcamp page, listening to their songs, and downloading your favorite tracks. And be sure to follow theCatherines on Facebook and Instagram.