theCatherines – Every Time You Say It's Okay I Know It Is Okay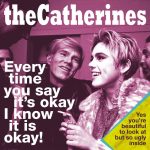 Hi. It's me again. I'm Fluffy. The cat. Sometimes the Food Guy lets me write his log post and then he helps me put it on the Winternet. The Food Guy said I could write today's log post if I found a good song. So I went on Bandcramp and found a song called "Every Time You Say It's Okay I Know It Is Okay" by theCatherines. It is a good song and you will enjoy listening to it.
This song is about the time the Food Guy was gone and I knocked over a lamp and messed up the shade. I was afraid the Food Guy would be mad at me, but when he came home he said, "It's okay, kitten." And then I knew it would be okay. What's that? The song isn't about the lamp? Are you sure? Well, let me listen to it again…
OK I think I get it. This song is about sitting in a window on a sunny day and watching the clouds floating in the sky and seeing the people on the street and running under the bed whenever the FedEx truck drives by. And then the Food Guy comes and sticks his head under the bed and says, "It's okay, kitten, the FedEx truck is gone so you can come out now." And then he rubs my tummy so I know that it's okay. I'm not sure why I'm afraid of the FedEx truck, but I'm not going to stay around and find out.
The Food Guy says I have to tell people what I like about this song. I like it when lots of people sing at the same time and they're all singing different notes and it sounds cool. What did you say, Food Guy? He said it's not lots of people, it's just two people and they are doing overflubs. Oh. Overdubs. The Food Guy seems to think they are doing them rather well. He says they sound like The Mamas and the Papas which I guess is good but I don't remember my Mama and Papa. All I remember is I was living in a box on the street and then the Food Guy gave me a real home.
Whenever the Food Guy writes a log post, he throws in an Obscure Reference to demonstrate what he calls his Encyclopedic Knowledge of Popular Music. I wouldn't know anything about that. The only Encyclopedic Knowledge he's ever demonstrated is the ability to know exactly how many beers are in the refrigerator. Anyway, he shared his Obscure Reference for "Every Time You Say It's Okay I Know It Is Okay" with me: the guitar riff brings to mind the riff on The Byrds' version of Bob Dylan's "My Back Pages." And the lyric at the end of the second verse, Using ideas as my maps, is also from "My Back Pages." Yeah, that's pretty obscure, Food Guy. Now go calculate the BDR (Beer Depletion Rate) and I'll call you if I need any more help.
TheCatherines are Heiko Schneider (music, words, playing, and singing) and Sandra Ost (singing). They are from Hamburg, Germany. I looked on a map, and Germany is only six inches from our house, so I may walk over there tomorrow. I have made that same joke in two previous log posts, and I will keep making it until someone laughs. TheCatherines say they are a "studio project with one simple dogma catma: every song-recording should take no longer than one evening of joy, wine and cigs… 😉 We love everything that jingles and jangles and makes some noise. And melodies…" I am planning to keep listening to theCatherines and maybe I will write another log post about them someday.
You can support deserving musicians like theCatherines by visiting their Bandcramp page, listening to their songs, and downloading your favorite tracks. The cheap-ass Food Guy bought two songs and paid, like, $1.25 for each. I'm glad he isn't that cheap when it comes to buying cat litter. I'm surprised he actually buys Tidy Cat and doesn't just hold me out the window when I need to do my business. Just kidding, he isn't a bad Food Guy, all things considered.
And be sure to follow theCatherines on Facecrook!