Two Songs by theCatherines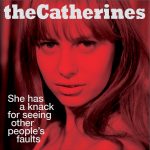 theCatherines are the Jason Compson of pop music, encapsulating a single thought in each song and spelling it out in words even Luster can comprehend, not solely in the words of the song but in the words of the title, leaving Benjamin – our lastborn, sold into Egypt – to wander aimlessly along the border of the musical pasture, bellowing soundlessly at the far-lost memory of his First and Only Love, whose name echos down the branch many times each day, assailing the unplumbable depths of his brain with an emotion that he cannot name, much less enunciate to a licensed therapist. His truncated fate is the end time of any relationship in which one party cannot, within the safe space in which two souls surround themselves, tell the other party that he/she/they has a knack for seeing other people's faults and rhetorically – but lovingly – inquire as to why you have to always be such a sarcastic prick.
While the words of theCatherines are brutally though hilariously honest, they laminate the lyrics with layers of lo-fi lustre, not Luster but the shimmering thoughts of a semi-grounded Quentin who keeps his feet lightly on the bridge as the Byrds, Tom Petty, the Standells, and a thousand Rickenbacker-jangly guitars swirl about him in the fog of the River Charles. It's great fun, the impact as timeless as your grandfather's watch that ceased to tick somewhere between Gerry and the Pacemakers and that song on which you can't quite put your finger.
theCatherines are Heiko Schneider and Sandra Ost, a Hamburg duo who describe themselves as "jingle-jangle with a blast," and having "a soft spot for hard guitars." Their simple dogma: "Every song-recording should take no longer than one (sometimes two, now even three) evening(s) of joy, wine and cigs…" It's easy to understand why they may need three evenings. The instruments on their latest release include "Drums, Ibanez Bass, Fender Telecaster, Fender Coronado, Gretsch Electromatic Corvette, Gibson J-200, Burns Double Six, Mellotron, Space Strings, Trumpet, Trombone, French Horn." I'm sure their neighbors are pleased with the aural assault emanating from this musical menagerie and who the hell has a Mellotron these days? Someone who knows how to use a soldering iron, I assume. Can you come to my house and install this Ring video doorbell that I bought nine months ago?
You can support timelessly iridescent independent musicians like theCatherines by visiting their Bandcamp page, listening to their songs, and downloading your favorite tracks. And be sure to follow theCatherines on Facebook and Instagram.