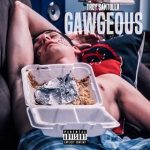 Who do you see when you look in the mirror? A few years back I saw my dad, but shit didn't get real until I started seeing my grandfather. That's OK. On the internet, you can be anything you want to be. And give me enough bandwidth and I can become a thirty-something gonzo music journalist with a cigarette dangling from the corner of my mouth and a glass of straight Scotch within easy reach, conjuring up Lester Bangsian poetry for a hoard of ravenous readers. I can also be a cat.
Troy Santolla may wake up on a sofa that was described as "disgusting" several owners ago. He may pull on a pair of fuzzy slippers that his mom gave him before he went off to college and shuffle down the hall to a bathroom that the health department would consider an unsafe environment. But when he looks in the mirror, he sees a five-star hip-hop artist and Number 10 Baller who is absolutely GAWGEOUS! The Hublot on his wrist looks suspiciously like a Mario watch from a cereal box, and his Rolls Royce Wraith with the starlight headliner bears a passing resemblance to a nearly-dead Pontiac G-6 with glow-in-the-dark stars pasted to the roof. Which makes one wonder if Troy is totally delusional or the sanest man on the planet. I'm betting on the latter. The difference between a Birkin bag and a Burger King bag is immaterial to a guy with only a handful of change in his pocket.
Troy Santolla hails from the hills of North Carolina. He is undeniably white, but that has nothing to do with anything. He'll spit rhymes with anyone and takes his craft, though not himself, seriously. This is Troy's fourth appearance in these virtual pages; we've previously featured Frat Rap, Make It Happen, and Polar Expre$$ II, which Troy recorded under the pseudonym of Lil Opioid Crisis. His music, which has improved with each release, is always positive and he has the ability to inject a touch of self-deprecating humor into his work without lapsing into self-parody. I think he's onto something here, and the world just hasn't quite caught up to him. When I asked Troy if he was getting much recognition for his art, he replied, "Depends on your definition of much. But I feel like I'm slowly but surely gaining some attention." The Hublot may be out of reach in the short term, but I think Troy's about two clicks away from replacing that Mario watch with a reliable Timex. Maybe a Seiko.
You can help transform Troy Santolla's Pontiac into a Wraith by listening to his songs, downloading the ones you like, and telling your friends about him. "GAWGEOUS" and his other singles are available for streaming on Spotify or iTunes, with additional tracks by Troy Santolla, including the album Genesis, on Soundcloud. And be sure to follow Troy on Facebook, Twitter, Instagram, and YouTube.