Troy Santolla – Make It Happen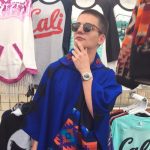 Today the folks at Reverb Raccoon venture far out of our comfort zone and into the world of rap. Since we don't know much about this genre, you the reader will be spared the obscure references to other songs and artists that we often cite in a futile attempt to look intelligent.
Though we don't fully understand rap or hip-hop, we understand dreamers, and we understand the fortitude that it takes for an independent musician to create a product and put it out there for the world to judge. Today's dreamer is Troy Santolla, aka T-Roy, from over in Boone, North Carolina, who brings us "Make It Happen."
The moral of "Make It Happen" is, chase your dream and don't be a hater. No matter what that dream is.
If your dream's time travel, bro
You put in that research and you fucking time travel
If your dream's to find Bigfoot one day
I want you to travel this entire world until you find that motherfucker
Troy's dream is to be a rapper, and he seems to be making a pretty good go of it. He's not getting a ton of plays, but he's working on his style, refining his craft. His most popular track is "Frat Rap," a song featured on Reverb Raccoon two years ago. "Frat Rap" described what a blast it was to be a member of the Kappa Sigma fraternity at Appalachian State. Troy made it sound like a lot of fun but, plot twist, the killjoys at Nationals take a dim view of fun and Troy got booted from the organization. "I had multiple people call me and tell me to remove the song or else I would be expelled," Troy told me. "But since making music is my dream, I chose to leave it up."
"I honestly think 'Frat Rap' is one of my worst songs, so I'm really trying to redefine myself as an artist," Troy wrote in an email. "My most popular song since is 'Angels.' It's much more lyrical and spiritual than 'Frat Rap.'" Troy's credibility got a huge boost last summer when he cut "Sippin' Screamin'" with Project Pat, who has had significant success as a solo artist and as a contributor to Three 6 Mafia.
In addition to chasing his dream, Troy is still working on his degree at Appalachian State. "When I'm not in school, I work 60 hours a week to support everything," he wrote. As he notes on his Soundcloud page, "I'm just like the city Troy, except I never collapse."
All of Troy's music, including "Make It Happen," is available for streaming on his Soundcloud page, and "Frat Rap" is available for download on Bandcamp. And be sure to follow him on Twitter and Instagram.
Bonus Song: The Troy Santolla track that jumped out at me was "I Just Want." Troy shows that he has a very nice, old school singing voice. Troy writes, "'I Just Want' is one of my other personal favorites as well! I've definitely thought about singing more, I actually have one song I haven't released where I do some singing." I'm hoping to hear more like this one in the future.