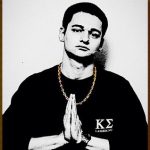 Troy Santolla is young, semi-good-looking, and a Kappa Sigma at Appalachian State. And that combination has him pulling mad numbers of bitches. As Troy tells us in his new single, "Frat Rap," he's ballin' 24/7 and enjoying every second of it.
"Frat Rap" is about the [apparently very good] life of a Kappa Sigma. It's full of Kappa Sigma references, including some that non-members aren't meant to understand. But even a total cargo shorts-wearing geed can relate to the spirit of this track. For the uninitiated, Geed = GDI = God Damn Independent, or someone who didn't pledge a fraternity. Geeds wear cargo shorts, which are NF (not frat). Full disclosure: I'm a GDI. But I gave up cargo shorts a while back and I wear Sperry boat shoes every day. Boat shoes are FaF (frat as fuck). My favorites are a pair of Gold Cup Authentic Original Burnished Leather 2-Eye Boat Shoes. They were a Christmas gift from my awesome dimepiece GF who is a total 10/10 smokeshow. She's into my dad bod.
"Frat Rap" is hilarious if you don't take it seriously. It sounds like it would be a great recruiting tool. I know if I was a college freshman again and heard "Frat Rap," I would head straight to the nearest Kappa Sigma chapter and say "Start hazing me." Fluffy the Idiot Cat didn't care for it, though. When I played "Frat Rap" for her she ran under the bed. Cats are NF.
The fraternity culture has taken some public relations hits lately. Google "fraternity suspended" and you'll find a long list of infractions. But fraternities also provide large amounts of philanthropy and community service (even some that is not court-ordered). Their members have higher graduation rates than the GDI's and, after four years of keg stands, tailgates, shotgunning beers, beer pong, shooting threes in IM basketball, drinking more beer, and doing other creative things with beer, most become productive members of society. Your boss is probably a fraternity man.
Troy seems like a pretty good guy. But when "Frat Rap" was featured on TotalFratMove.com, the most fraternity-friendly site on the Internet, the comments section oozed negativity. The top-voted comment: "This is an example of white privilege done the wrong way." Troy joined in to respond: "I made the song for fun. White privileged??? I have a job, I pay my dues myself and I paid for my beats and studio time myself. Privileged my fucking ass. I'm definitely white though! I was messing around and made a song. Hate if you want I honestly don't care. Follow me on Twitter and Instagram though @TroySantolla ! Got more music coming!"
The arch-nemesis of every fraternity chapter, besides geeds, their rival fraternities, and the school administration, is the national organization or "Nationals." Nationals are a bunch of NF killjoy tryhards, and they didn't see the humor in "Frat Rap."
"Kappa Sigma Nationals actually suspended me for the song yesterday and told me I am going to be expelled if I don't remove the song," Troy told me in an email. "And I do not plan on removing the song." I'm pretty sure Troy will land on his boat shoe-wearing feet. So let's lift a red Solo cup full of Bud Light in his honor. But don't lift a blue Solo cup. The blue cups are NF.
"Frat Rap" is available on Bandcamp, Soundcloud, or iTunes. And stay alert for Troy's future releases. He has an album in the works and plans to drop a single on Valentines Day.