Lil Opioid Crisis – Polar Expre$$ II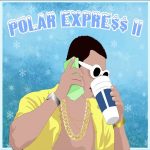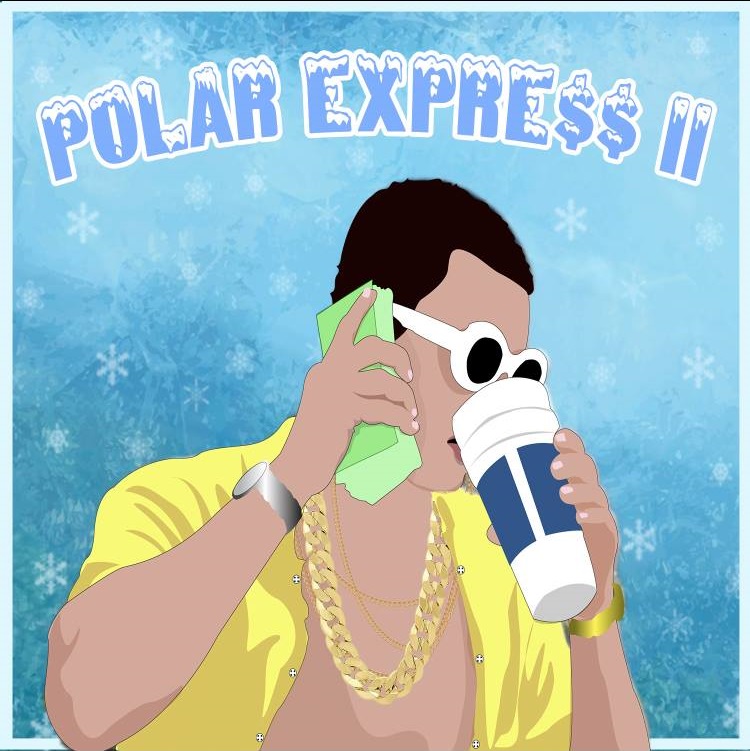 A couple sits on either side of a small table at what appears to be a sidewalk café in southern Italy. I have no idea why these things are always set in southern Italy, but they are. We haven't cast our actors yet, but I'm pretty sure the woman will be played by Jennifer Aniston. The man, wearing a white dress shirt above khakis, is leaning back in his chair, absorbed by the Wall Street Journal. His legs are crossed in the European fashion, exposing a modest expanse of unsocked ankle between the pants cuff and the top of his Sperrys. Without glancing up from his newspaper, the man – speaking in the boring white guy voice that telegraphs to the audience that Jennifer Aniston will be the star of this show – says, "I read about this kid in Boone, North Carolina. He wants to be a rapper." And Jennifer Aniston, with casual elegance, waves a hornet away from her wine glass, extracts her iPhone XS from wherever it was intracted, and taps BOONE…
No. Stop the presses or whatever it is one stops in these situations. Our screenplay is not splashed about in rosy rom-com pastels. Its scenes are etched on brittle celluloid in black, white, and various shades of gray. In our movie an aging table in a musty, dimly-lit basement with pitch-black shadows is swept clean by an arm encased in a woolen greatcoat, and a huge map unrolled upon it. As the camera slowly pans in upon the map, a gentleman's arm appears in the frame and extends a withered, shaking index finger. The ancient digit touches down at the junction of Virginia, Tennessee, and North Carolina, then traces the crest of the Appalachians southwest the breadth of a county to US 321. A nudge to the east and the finger grounds itself on Boone. "There," rasps a voice perhaps once strong but now frayed by the cobwebs of time. "That's where he is. The kid who wants to be a hip-hop artist…" And the disembodied voice of Morgan Freeman intones, "That kid was Troy Santolla. And the odds were stacked against him."
Uh – Cut? Yeah, there's this young guy in North Carolina, from up in that Carter Family country, and he's a hip-hop musician. It's not "He wants to be a rapper" or "He wants to be a hip-hop artist." He is those things. Or as Lil Opioid Crisis would say, "It's pretty simple, man."
Lil Opioid Crisis is the creation of Troy Santolla. We've written about Troy Santolla before, back in 2016 and earlier this year. Lil Opioid Crisis, aka Lil OC, first appeared when he "auditioned" to be a weatherman (I think) on Up Late App State, "a late-night comedy show that is entirely produced, directed, and hosted by students" of Appalachian State University. As Lil Opioid Crisis, Troy has released a new single, "Polar Expre$$ II." And if you were thinking you had arrived on the platform late, no, there was no "Polar Expre$$ I." Maybe the prequel will appear in the boxed set that will someday provide a vinyl retrospective of Troy's career.
"Lil Opioid Crisis will return every now and again," Troy told us in an email. "I'm hoping Lil Opioid Crisis will kind of be an alter ego I bring out every now and again to make people laugh." But Troy has no intention of being a novelty act. "I do take my music very seriously," he said. "A novelty act is the last thing I want to be. But at this point in my career I am just trying to figure out a way to be heard. If putting on an act is how I first gain attention, then so be it. But my dream is to be known as a legitimate artist."
Troy says he is following the paths of Wiz Khalifa and Mac Miller. "They have incredible amounts of positivity within their music and they both have dream chaser mentalities. Both of them at one point were doing exactly what I am now, and I hope one day to spread positivity with my music like they do." Troy's musical influences extend beyond hip-hop to artists as diverse as Ben E. King and Disturbed. "I enjoy all music that has a flow," Troy said. "Classical music influences the positivity in my songs, while heavier rock influences the passion and upbeat tempo within my music."
When asked how well he had been accepted in Boone, North Carolina, a place typically not associated with musicians who do not carry a hollow stringed instrument, Troy replied, "I actually do have a decent fan base in Boone. But regardless, there is almost little to nothing the folks wouldn't accept up there. Boone is the first place I performed live, and the place where I wrote a large majority of my music so it will always have a special place in my heart."
"Polar Expre$$ II" is available for streaming on Spotify or iTunes. And check out other songs by Troy Santolla, including the album Genesis, on Soundcloud. And be sure to follow Troy on Facebook, Twitter, and Instagram.