Matthew Barton – When I Was Young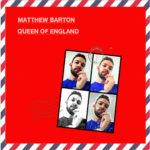 It is really true what philosophy tells us, that life must be understood backwards. But with this, one forgets the second proposition, that it must be lived forwards… Life at any given moment cannot really ever be fully understood. — Søren Kierkegaard, Journals (1843)
I have lately spent an unhealthy amount of time gazing back at who I was, and trying to mentally retrace the route that brought me to my current destination. I've concluded that, at any point in The Past, I had no idea where I was or where I was going. Which leads to the question of whether I know where I am now.
Matthew Barton's 'When I was Young' is a ragged scrap of roadmap — one of those objects that no longer exist within a rational society but whose passing is mourned wherever two or more Boomers are gathered together — crammed into a just-emptied beer bottle and flung backwards into the solar winds of the time-space continuum to land on the bed of a Younger Self.
down the deepest well
you feel you are
but you will get out
the oceans
mountains
and the rivers
you will cross
you will get out
The route is marked with a yellow highlighter whose ink has already begun to fade in the bottle's damp interior. But Future Someone will always be watching, ready to provide the needed nudge at any Crossroad.
but you know
when you need loving
time will slow
but keep going
if your dreams recede
i will dream your dream
'When I Was Young' has the timeless feel of a rock ballad, a song played softly by a hard band, the players' power barely restrained by the track's dynamics. I love Matthew Barton's ability to create a collage of sound from a minimal arrangement. A twelve-string's droning B stands in for an orchestra, a double-tracked vocal for a chorus.
Based in England's Midlands, Matthew Barton describes their music as where 60s girl groups and DIY cassettes meet, on a fuzzy four-track with guitars and synths and autoharps and harmoniums. 'When I Was Young' appears on Matthew's new seven-song LP, Queen of England, set for release August 28. Today's track marks Matthew's fourth Song of the Day: we previously featured 'Orchid,' 'Fag,' and 'Hide.' The latter two posts were penned by Matthew.
Matthew Barton's music is available on Bandcamp, Spotify, Soundcloud, and Apple Music, and from Knifepunch Records. Be sure to follow Matthew on Twitter and Instagram.
The video for 'When I Was Young' was created by Paul Snyder of Columbus, Ohio.