Five Songs to Buy on Friday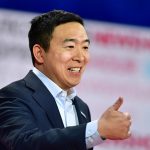 Nothing makes you appreciate a functioning government like a global pandemic. — Andrew Yang
Andrew Yang has been described as The Happy Warrior, an appellation previously applied to Lord Nelson and presidential candidates Al Smith and Hubert Humphrey. But Andrew's book, The War on Normal People, was solidly unhappy, predicting a near future in which millions of people are unemployed, their jobs having vanished into the ether:
There will also be enormous numbers of increasingly destitute and displaced people in decaying towns around the country that the trucks drive past without stopping. Some of my friends project a violent revolution if this picture comes to pass. History would suggest that this is exactly what will happen… It's almost certain that increasing levels of desperation will lead to destabilization… The worst case is widespread despair, violence, and the utter collapse of our society and economy.
This week the future arrived early as millions of American workers were sent home with little more than a Sayonara, to await whatever fate their dysfunctional government chooses to dole out to them. Their brightest hope for potential relief is, appropriately, a partial enactment of Andrew Yang's $1000/month Universal Basic Income. It turns out that the best way to help people who need money is to give them money. And for those who don't believe that violence and mayhem simmer just below the surface of civility, a friend who works at a Houston Walmart told us that two women were fighting over an onion.
But as we barricade the doors with furniture and take inventory of our toilet paper, there's no reason that we can't enjoy good music. Tomorrow (Friday) Bandcamp will do its part to aid the community of musicians by waiving its share of each sale. Not exactly a windfall, but every cent helps. And when you open Bandcamp tomorrow to help your favorite musician(s), check out these tracks. Each has been tested and approved by Reverb Raccoon.
James Forest – Hummingbirds
'Hummingbirds' is a lost track by Crosby, Stills, and Nash or maybe Young. The song appears on James Forest's 2016 album, From Chennai To London. Soft guitars and a softer voice create a smoky dream of satisfaction and longing.
Josaleigh Pollett – Capable
We discovered Josaleigh Pollett way back in 2014, when we featured her previous album, Strangers. 'Capable' is from her new album, No Woman Is The Sea. It's a fantastic twelve-song collection, updating Josaleigh's folky-country vibe without losing her soft sincerity.
Wild Daydream – Houston
It's Allergy Time in Houston as the live oaks and pines, undeterred by potential pathogens, coat the city with a thick spray of yellow pollen. Every time I step into the backyard I sneeze, then remind myself that I don't need to worry about the virus unless I'm coughing. Released on Valentine's Day, Wild Daydream's 'Houston' shares an unlost weekend from an earlier eon, brief days and nights of friendship, music, and discovery. AKA Simeon Williams, Wild Daydream is one of our favorite new artists: he's scored four previous songs of the day since his first appearance in July 2019.
Jason Trevino – Shipwreck'd
Jason Trevino describes his new four-song EP, A Brighter Summer Day, as a rumination on obsession, defeat, and acceptance. 'Shipwreck'd' leans to the side of optimistic acceptance, as the captain eyes a rocky lee shore and knows that to either tack or wear ship will lead to disaster. Gotta keep on pushing through… There's nothing left to do… Last year we featured Jason's sultry folky-rocker, '#8,' from his Jason Trevino EP.
Crystal Furs – Too Kind To be Cruel
We've been fans of the Crystal Furs for a few years now, since singer/guitarist Steph Buchanan followed us on Twitter (for some unknown reason). A lot has changed since those days: I moved from Georgia to Texas and the Crystal Furs, as if pursued, moved from Texas to Oregon. They describe their latest single, 'Too Kind To be Cruel,' as melodic indie pop tune with lyrics that give you feels. It's good feels, the kind of feels we need these days.
Enjoy the lockdown, folks! Stay safe, wash your hands, don't touch your face, and support your favorite musicians by buying their tracks and merch. And when all of this is reduced to a fuzzy gray dot in our review mirror, we'll get together somewhere down the road.