Josaleigh Pollett – Strangers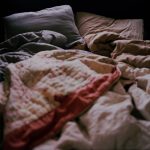 Josaleigh Pollett inscribes letters, never written or mailed but spoken aloud in a room without light, staring at an unseen wall, a glass half-empty of bourbon on the side table, messages to the departed, the estranged, the source of her ache. Strangers comprises eight of these missives.
The words are widely spaced, as if each requires a thought, a focus. The melodies are subtle, faintly rippling, undulating beneath a veil of wistful melancholy. The effect is in the same instant seductive, soothing, and disturbing. The gentle voice, backed by a slow acoustic guitar, can ease you into sleep. Unless you listen to the words. One may wonder how a 22 year old from Ogden, Utah has managed to experience, and endure, so much heartache. As in "Broken Glass" she sings, "My age is not the reason that I'm old."
The title track tells us that estrangement is as close as your own bedroom, that souls can be separated by a thin glaze of whiskey on the lips.
"Nebraska" describes a relationship held apart by an expanse of flat earth that one party, but not the other, chose to cross.
The album's eight songs are tied together by the common theme of being spoken to another, post-breakup, trying to bring poetic sense to the senselessness with which we live out our passions, our attractions, our emotional addictions.
We were fortunate to be able to "sit down with" Josaleigh for an email interview. Like her songs, her written responses reveal an honest simplicity, a devotion to reality…
RR: Is it fair to say that most of the songs on Strangers are about separation, estrangement, and failed relationships?
JP: Oh yes. Very fair. This entire record is about those three things specifically.
RR: Are they based on personal experiences? That's is a lot of heartache for someone so young…
JP: Almost entirely. It is fair to say that heartache comes more naturally to me in the songwriting process than happiness. I've been through many more happy experiences and good days, but I rarely find inspiration in those to write about. They are more about being enjoyed at the moment they occur to me.
RR: Strangers was recorded by William Pollett. I assume you are related?
JP: Yes! I am lucky that my father went to audio engineering school when he was younger, and is able to help me a great deal in the recording process.
RR: Stalking you on Facebook, it looks like you finished recording Strangers on March 30 and had it up on Bandcamp four days later. Do you have any hesitations about engaging in such a "straight from my heart to your ears" process?
JP: While I love the big to-do that comes with getting excited, and the anticipation for a new record from a great band, I don't have the backing to do that sort of thing. I had the songs, I had the artwork, and I had no intention of putting it through any sort of mastering process. I loved the sound that came from recording in the house I grew up in, and I was happy with it. Honestly, I was too excited to wait any longer.
RR: Browsing through Kickstarter and Bandcamp, we find no shortage of girls with acoustic guitars. What sets you apart from the others, and from the Ingrid Michaelsons, Rosie Thomases, and Cat Powers of the world?
JP: I worry about this question every day. I like to think that while these women are incredible musicians and songwriters, they aren't regular people. They are magical and mysterious and I still don't know anything about them, but I'm definitely going to buy Cat Power's new albums every time. I really like to be honest, simple, and real in my songwriting as well as who am I as a person. I think people like being told the truth about performers. I just want to be someone writing simple songs about everyday things that people can relate to.
RR: Some musicians try to avoid the "folk" label. But you seem to embrace it…
JP: I grew up on Joni Mitchell and Cat Stevens. I love the 60's & 70's folk scene because I was raised on it. I would be honored to consider myself remotely the same genre.
RR: As influences you list, among others, Kurt Vonnegut, Ryan Adams, Nina Nastasia, and Dark Dark Dark. It's easy to find traces of Nina Nastasia and Dark Dark Dark in your music. But how do Kurt Vonnegut and Ryan Adams enter into it?
JP: Well I'm flattered that you hear those ladies in my work. The others are more by way of songwriting and story-telling. So much of my life has been spent letting Vonnegut books cheer me up, and Ryan Adams songs let me revel in my sadness. Every influence helps me to tell stories through my songs.
RR: What is your favorite Vonnegut work?
JP: Bluebeard is my favorite of his books, though I am also forever in love with Cat's Cradle and Breakfast of Champions.
RR: Who has had the greatest influence on your guitar playing? I hear Neil Young…
JP: Neil Young has always been an influence to me in his guitar playing. It's very simplistic yet extremely melodic. I also love Laura Marling's playing, but I don't feel I have her incredible skills on a fret board.
RR: I have to ask the corny equipment question: What guitar(s) do you use? I won't do the whole Guitar Player thing and ask about the strings or the pick…
JP: For my recordings and most of my shows, I use my acoustic/electric Taylor. It's my favorite that I've ever played, and doubt I'll play anything else for many years.
RR: When you think "music," Ogden is not the first city that comes to mind. Is there a music scene there that the rest of the world hasn't discovered?
JP: The music scene in Ogden changes genres every few weeks. It's very small and doesn't come out of the garage very often. I love my fellow Ogden musicians, but it's hard here to play shows as the only options for venues are bars first and foremost and sometimes have a stage. The city itself isn't very accommodating to soft spoken singers like myself, so most of us just work our way into the Salt Lake scene.
RR: Have you thought about moving to a more established "folk friendly" town like Austin and trying to work with some of the established musicians and producers there?
JP: I have thought of Austin, but I'm actually moving to Seattle at the end of this month. I'm hoping I'll find more inspiration and acceptance there. I'm also terrified of trying to break into a bigger music scene like theirs, though. It's going to take some time, but I hope it will be worth it.
RR: Any plans or desires to work with a band?
JP: I absolutely love working with a full band, but I've just only ever had time to be a solo artist. I end up writing and playing songs very early in the morning before work or school, and the time to rehearse with a band just never seemed plausible. I'm hoping to find more time in my new city. I think a full band adds a feeling that you can never achieve as a solo artist.
RR: If you could pick two songs to appear in this review, what would you choose and why? I like "Strangers" and "Nebraska…."
JP: Then let's go with those two! They are actually the two oldest on the album. I wrote them over a year ago, and the others have been in the last six months. I feel like they've had the most time to grow and develop into songs I love playing. I'm the most comfortable performing them, and I think that makes them more accessible and easier to listen to.
RR: Why has Nebraska inspired so many songs? Why doesn't South Dakota get more attention?
JP: Such a good question, and I wish I had an answer. I think maybe because it's so damn flat and boring. You HAVE to be creative and passionate when passing through there or you'd go crazy!
RR: If you could sing a duet with anyone, who would it be? And what song would you choose
JP: I would have to say Jason Molina. Even though he's passed away, his songs inspire me in a way that is so heart-wrenching and good. I doubt I could finish singing a song without bursting into tears with him. I'd have to choose the song "Leave the City."
RR: Is there any particular song that you have always wanted to cover?
JP: I've lately been wanting to cover a Chvrches song called "Gun." It's insanely catchy and electronic and pop-gooey goodness, and I'd love to just slow it way down and sing it like I mean it. It's a great song.
RR: Define "success" for you as a musician. Are you on track to achieve it?
JP: Success with music to me is being able to make it my day job. I'd love to tour and write more and sell enough records to get me to the next city. I hope I'm on the right track! I think a new city will help a lot, but we'll just have to wait and see!
RR: And finally, do you have any last words for Reverb Raccoon's vast hoard of music-loving readers?
JP: I just want to say thank you for reading and thank you for sharing my music and silly thoughts all over the place!
Thanks, Josaleigh. Those were great answers. You made me feel like I was asking the right questions!
Strangers is available for streaming or download on Bandcamp. Be sure to check out Josaleigh's previous album, Salt, released in 2012. And don't forget to join Josaleigh on Facebook and Twitter.