More Songs from The Food Guy's Twitter Followers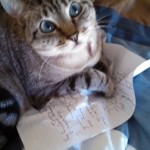 Welcome back cats, kittens, lovers and other strangers. It's me again. The cat. You may remember me from my reviews of Oisin and Malachy, eric + erica, and Newglads. And you may have read my friend Fluffy the Idiot Cat's review of "Autumn Time," a song by a kitten named Lydia Jayne. Today the Food Guy is busy playing with his PowerPoints, but he said I could write another post if I wanted to. Last year I wrote a post featuring songs from The Food Guy's Twitter followers. So let's try that again.
I'm not sure why anyone would want to follow The Food Guy. He rarely twits unless he has posted something on his blog. And these days he struggles to put out a blog post once a month. So waiting for him to twit is like waiting for Godot. I mean, he would probably forget to feed me and Fluffy the Idiot Cat if we didn't wake him up at 3AM every morning. But for some unknown and inscrutable reason, some pretty cool musicians follow The Food Guy. So let's take a listen to their offerings. We'll just start with the most recent followers and work our way down…
Static In Verona
Static In Verona is Chicago musician Rob Merz. I can't believe anyone this good would follow The Food Guy. His music has that innocent Phil-Spector-meets-The-Beach-Boys quality that lends any song a wistful, heard-before-but-can't-remember-where patina of pop nostalgia. The Food Guy helped me write that line.
Rob's last Static In Verona release, Everything You Knew Before You Knew Everything, arrived in March 2014. Sixteen excellent tracks like these…
You can download Static In Verona's songs from Bandcamp or iTunes. And be sure to join Rob on the Static In Verona website, on Facebook, and on Twitter.
Killer Ghost
Killer Ghost describes itself as "Making weird noise for weird girls and weirdo boys." They are from Seattle, but The Food Guy says they sound like what you would get if you took CBGB's and put it in a garage underneath the Santa Monica pier and made The Doors the house band. I'm not sure, but I think that means The Food Guy likes Killer Ghost. Here is a track from their latest EP, In the Forest Green, released in September 2014.
You can download plenty of Killer Ghost tracks on Bandcamp. Like them on Facebook and follow them on Twitter. And if you're in Seattle, be sure to check out Killer Ghost's upcoming March 29 show at Chop Suey.
Mary Caroline
Mary Caroline is "A sculpter of words and sounds, in music and film, from Canada's far north." She lives in Yellowknife, in Canada's Northwest Territories. That's, like, way up there. I think it is closer to the North Pole than it is to Houston. She must be very brave. And cold.
Mary Caroline must have followed The Food Guy by mistake. Probably pushed the wrong button on her phone or something. Because she is very good. Her music is rooted in folk, but it's overlain with a rich texture of pop and rock. What's that? The Food Guy just yelled something from the next room. He said, "Thank you Mary Caroline for not trying to sing like Joni Mitchell like every other female pop singer does these days even though you are from Canada." Not sure what he meant by that…
Mary Caroline's debut studio album, Life on Earth, was released in January, 2015. Here is the video for the first single, "Such a Liar."
Mary Caroline's music is available on Bandcamp and iTunes. Drop by her website for a warm cup of cocoa. And visit her on Facebook and Twitter.
The Baby Magic
The Baby Magic is (are?) three people from Chicago whose apparent goal in life is to make every normal housecat run and hide under the bed. That's certainly what Fluffy the Idiot Cat did when I played their music. What's that? The Food Guy just said, "They watched River's Edge too many times in their formative years." Not sure what that means… This is the kind of follower The Food Guy usually attracts: outsiders with about 600 Facebook likes who don't mind following an unknown blogger who sometimes lets his cats write the thing for him.
I found a quote about them that is too good to not steal. Grant McKee, the owner of Bucket of Blood Records, wrote, "If you want the full 'Magic experience, find them in the sweatiest, sleaziest, skankiest bar you know and get set to release your inhibitions and find that part of you that your assistant principal warned you would end up on your permanent record."
The Baby Magic released their latest album, Rent a Place in Hell, in September 2014. Here's a video from their first single, a quiet little ditty called "Take It From Me."
You can download "Take It From Me" and the other six tracks from Rent a Place in Hell on Bandcamp. Like them on Facebook and follow them on Twitter. But you will have to get out from under the bed to do it.
Steph Buchanan, The Diabolical Machines
Sometimes people follow The Food Guy and we aren't completely sure who they are. Somebody who goes by the Twitter handle StephORama followed him. She seems to be Steph Buchanan, singer and guitarist for The Diabolical Machines, a band from up the road in Fort Worth. Yesterday she tweeted, "I can make any song be about cats." And her Tumblr page has lots of pictures of cool cats doing cool things. So I like her and I think you will like her too.
The Diabolical Machines' latest release is a cover of The Beach Boys' "Wild Honey." It's good fun for cats and kittens and should get your paws moving and your tail shaking. Even Fluffy the Idiot Cat liked it! The Diabolical Machines feature an old Farfisa organ. The Food Guy says he had one, back in the day, but he gave it to a church.
****
Update: Well, Fluffy, it looks like "Wild Honey" isn't on Bandcamp anymore. I couldn't find it on Soundcloud either. That's too bad cuz it was a great track. Oh well. But here is another great song from the Diabolical Machines, It's called "Drag You Away" from an EP with the same name. The cover art has kittens on it, so it must be good.
Be sure to check out the D-Machines' other tracks on Bandcamp, including their split EP with our old friends, Feral Conservatives. Then visit Steph and her friends on The Diabolical Machines website, on Facebook, on Twitter, and follow StephORama herself!
Feral Conservatives
And speaking of Feral Conservatives, they were one of The Food Guy's first Twitter followers. Matt Francis (drums, guitar) and Rashie Rosenfarb (vocals, mandolin, bass) have been busy lately, signing with EggHunt Records and releasing a 4-track EP, The Feeling Noise Becomes. Give it a listen and I think you will agree with me and The Food Guy: Rashie may be the most expressive singer around. FC's sound ranges from quiet to noisy. You'd be surprised what sounds they can get out of a mandolin and a cheap distortion pedal. Being a cat, I favor the folkier fare. Here's a good example, "Last Legs," from the new EP…
Feral Conservatives' output is anything but conservative. Feel free to download their entire catalog on Bandcamp. Visit their website, like them on Facebook, and follow them on Twitter.
So that is my post. I think it is not bad for a cat. The Food Guy has lots more Twitter followers, but this is all that I had time for today. OK, he has a few more Twitter followers. Maybe we can review some of the others on another day. The Food Guy says he feels bad about not writing a review for everyone who has taken the time to push a button that says "Follow."
So enjoy these good tunes, buy the tracks if you can afford it, keep watching the skies, and thanks for dropping by!