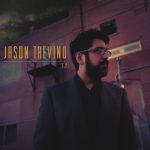 You can't live on the floor. You have to pull back the flaps of the yellow-orange tent in the ballroom and descend the stairs of the house on Archer Avenue to re-encounter your family, your friend, your falcon. You can't exist, disconnected from social reality, on a ship circling the globe, in the Lindbergh Palace Hotel, in the past, in a bathtub stealthily smoking with an electrical appliance teetering precariously on the radiator. In '#8' Jason Trevino explores isolation and recovery with sparse brush strokes and an airy arrangement in which the notes not played ring the loudest.
The track clicks to life with simple drums and guitar, the perfect soundtrack to Jason's directly-stated words. There is little ornamentation save a Beatles-esque backing vocal on the chorus, a beautiful slide guitar played by George Harrison, and Andrew Bird whistling in a distant corner.
'#8' is from Jason Trevino's new four-song self-named EP, his first release since 2014. The tracks are centered on a voice and nylon-stringed guitar, and grounded in Jason's wonderful sense of melody. All additional instruments, production, recording, and mixing were provided by Bobby Rivas.
Jason Trevino is based in San Antonio, TX. He self-identifies as a writer of "songs of rotten love" and says he "has often avoided mainstream success by creating work that is honest, uncompromising, and unique." Jason describes the new EP as "a rumination on sobriety, grief, and the hopeful search for happiness." He is a member of The Rosedale Highs, a more rock-oriented band that creates a counterpoint to his stripped-down solo work.
You can support deserving independent musicians like Jason Trevino by visiting his Bandcamp page, listening to his songs, and downloading your favorite tracks. And be sure to follow Jason on Soundcloud, Facebook, Twitter, and Instagram.
Bonus Track: 'Someone Like You,' a real scorcher by The Rosedale Highs.