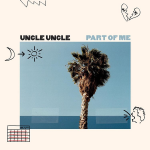 You listen to a song, like any Beatles song, those are all sad songs sung happily. You would never know what they were going through individually. — Colin Wilde, Black Thumb
Too much happiness can be a very annoying thing. As much as we all strive for happiness, there is a limit to how much happiness we can take. Spend any time with a couple who calls each other shmoopy and you'll either be heading for the door or reaching for a gun. Dostoevsky said, 'Happiness does not lie in happiness, but in the achievement of it,' meaning that, like the best Road Trip movies, the plot takes a sudden downturn when the destination is reached.
I love music that makes me smile. But too much of that good thing and I'm looking to throw a noose over the nearest rafter. The best pop songs leaven the joy by baking a light and fluffy crust around a dark and slightly bitter filling. Uncle Uncle ticks that box with 'Part of Me,' an airy summer single that brightens your eyes and breathes fresh life into a humid day, but whose words describe a relationship that sounds a bit messed up.
Take my day
You take all of my nights
Take the rope
Then you tie it so tight
Hey hey now there's a part of me
That makes me think we'll work it out
Baby there's a part of you
That makes me want to scream an shout
'Part of Me' hits that sweet spot between pop, rock, and folk. The song is simple, just a couple of verse-chorus combos, yet amazingly well-constructed. Listen for the guitar hook that trips down the stairs above the verse, taking the steps two at a time. The best players don't need a lot of notes, just the right notes.
Uncle Uncle is Kevin Cappon (lead vocals, rhythm guitar), Dominick Burnham (bass, vocals), Christian Edstrom (lead guitar), and Nick Fields (drums). Based in Santa Barbara CA, the band self-describes as 'a folk rock band putting sounds and words to observations on everyday existence.' Today's track marks their third Song of the Day; last year we featured Island 73, from their debut EP Say It, and the single 'Broadband, HiFi, Now!' It's been a pleasure to watch Uncle Uncle grow and gain traction. Last December, the Santa Barbara Independent named the band 'one of S.B.'s Best New Acts.'
'Part of Me' is available on Apple Music and Spotify. And be sure to follow Uncle Uncle on Facebook and Instagram.