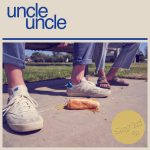 Uncle Uncle's "Island 73" is a beautifully simple song, the kind you hear and think you can write yourself. But you can't and that's okay because you can listen to this one, with its soft layers of easy guitars swirling gently beneath a timeless voice. Listen to "Island 73" in the evening as the sprinkler casts artificial rain over the pepper plants and the cicadas shake their maracas in the shadowy branches of the crepe myrtles.
"Island 73" casts a soft veil of intertwined guitars, including a rhythmic line of muted strings and a slide with an airiness that enhances rather than bites. The track may be an outstanding refutation of the theory that neck pickups are for wimps. The North Star of "Island 73" is the vocal, a voice with an instinctive feel for dynamics and just enough grit to cut through the summer haze.
As a Certified Music Journalist, I'm required to insert at least one Obscure Reference into each post. If I don't, the union will page that hipster who weaves around you on his longboard every time you walk your dog and send him to my house to rip the coveted Music Press card from the hatband of my Fedora. So the Obscure Reference for today: the vocals on "Island 73" recall those on New Madrid's "Country Moon Part I." The tempos are completely different, but the feel and semi-shouted lines are similar. Full disclosure: this is probably the third time that I've used "Country Moon Part I" as the Obscure Reference. I just like the song and I want everyone to know that I was listening to New Madrid before they were semi-famous. Maybe Uncle Uncle will be semi-famous one day and I can use them as the Obscure Reference when I review New Madrid.
Uncle Uncle is Kevin Cappon (guitar, vocals, songwriting), Christian Edstrom (guitar, slide guitar), and Dominick Burnham (drums, bass, synthesizer, backing vocals). "Island 73" is from their new three-song EP, Say It, which was produced and mastered by Dominick. The band self-identifies as "a folk rock band putting sounds and words to observations on everyday existence." Say It is their first release. Judging from their social media feeds, it looks like the band has played some live shows in the Santa Barbara area with a guitar/guitar/drums lineup. Shades of Hound Dog Taylor. I'll bet these guys sound great out in the open with a cool beer in your hand.
You can support deserving independent musicians like Uncle Uncle by visiting their Bandcamp page, listening to their songs, and downloading your favorite tracks. There's only three of them, so you might as well buy the whole lot (they're all good). And be sure to follow Uncle Uncle on Facebook and Instagram.