Uncle Uncle – Broadband, Hifi, Now!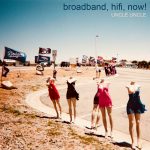 Uncle Uncle's "Broadband, Hifi, Now!" reminds us that nothing can make you feel more disconnected than being connected, the latest iPhone and unlimited data serving only to display with unwavering certainty that you have no DM's on any social media platform. If the only nourishment our souls required was that little red dot below the heart in the lower right corner of your screen, we would all feed Mark Zuckerberg a steady diet of Cat Pictures and keep that dot lit up like a reindeer's nose 24/7. But if each of Justin Beiber's 104,000,000 followers likes the Tweet about the strange person on the bus that you've been composing in your head for the past week, it will not balance the scale when the opposite beam supports the knowledge that Al Gore invented the internet in order to provide someone with an extraordinarily effective means of ignoring you.
"Broadband, Hifi, Now!" is a folky bluesy palette of warm colors painted over spare trees, a beautiful slide guitar flowing before a backing rhythm with open spaces of air that the singer could fill but doesn't, the brief phrases echoing away into the background. The effect is haunting, but with a hint of a nostalgic smile out on the edge of the sound.
Uncle Uncle is Kevin Cappon (guitar, vocals, songwriting), Christian Edstrom (guitar, slide guitar), and Dominick Burnham (drums, bass, synthesizer, backing vocals). The band self-describes as "a folk rock band putting sounds and words to observations on everyday existence." The group is based in Santa Barbara, California, where it was born in a garage.
"Broadband, Hifi, Now!" is Uncle Uncle's latest release, following their three-song EP, Say It. Last month we featured "Island 73," from Say It, a beautifully simple song with soft layers of guitars swirling beneath a timeless voice. There is an unforced naturalness to Uncle Uncle's music, a product of good songwriting and musicians who instinctively know how to play together as a single instrument. Extra credit to Dominick Burnham for pulling double-duty as Producer, and doing it very well. You don't get this sound by crowding three guys into a bedroom and sticking a microphone in the middle, which now that I type it sounds rather odd.
You can support deserving independent musicians like Uncle Uncle by visiting their Bandcamp page, listening to their songs, and downloading your favorite tracks. There's only four of them, so you might as well buy the whole lot (they're all good). And be sure to follow Uncle Uncle on Facebook and Instagram.