Kenny Brothers Band – The Other Side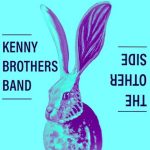 He never attempted to sleep on his left side, even in those dismal hours of the night when the insomniac longs for a third side after trying the two he has. ― Vladimir Nabokov, Pnin
Timofey Pnin lived, somewhat unstuck in time, floating between two worlds: the uncomfortable Russian childhood of Timosha, and the not-fully-grasped genteel garrulousness of a New England college where, 'after a single party, with an iceberg in a drop of whisky to start and with a lot of whisky in a little tap water to finish, you were supposed to call a grey-templed stranger "Jim", while he called you "Tim" for ever and ever.' Unable to reconcile one sea-separated side with the other, he wished only for a small white house next to a big black cliff.
'The Other Side,' by the Kenny Brothers Band, presents a person at a crossroads, divergent paths leading to opposites sides of a valley. Which path to walk, should the journey be solo, and will the trail simply meander through the woods and loop around to return him to his starting point?
The grass is greener on the other side
I can't handle anymore lies
you were wrong you were wrong and ran
I'll be here, I'll be here again
'The Other Side' begins gently, swelling with sky-blue waves of steel guitar, never rushing, a slow, clear creek easing through shady New England hills. The vocal is beautifully restrained, the harmonies enhancing without overwhelming.
The Kenny Brothers – Billy, Taylor, and Joey – self-describe as a 'mountain-rock band from the backwoods of Stratham, New Hampshire.' They combine 'honest folk-rock music with tastes of blues, funk, and improvisation.' Joe has scored two previous Songs of the Day: 'Girl from Delaware' and 'When Are You Going to Break My Heart,' both released under the name Morning Moth.
The exceptionally cool video for 'The Other Side' was filmed by Bob Glowacky at NoiseFloor Studios in Dover, New Hampshire.
You can support deserving independent musicians like the Kenny Brothers Band by visiting their Bandcamp page, listening to their songs, and downloading your favorite tracks. Be sure to visit the band's website. And follow the Kenny Brothers Band on Facebook, Instagram, Twitter, YouTube, and Spotify.
Bonus Track: Joey Kenny's 'Girl from Delaware.' You need to listen to this one.