Morning Moth – Girl From Delaware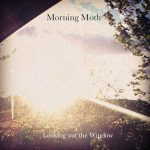 Here at Reverb Raccoon, we have excellent tastes in music. Whether it is played on a borrowed guitar and recorded in a dorm room on an iPhone, or recorded in a studio with a full band of professional musicians, every song posted here is Quality Music To Which You Should Listen. That is the Reverb Raccoon Guarantee. And today's selection is no exception.
"Girl from Delaware" is a charming little song by Morning Moth of Portsmouth, New Hampshire. Today I'm going to delete the obscure references to other artists and songs. I'm not even going to try to describe the song. I'm just going to say, "I really like this song. I've been listening to it over and over." And since I am the Arbiter of Good Taste when it comes to music, you are obligated to like it, also.
Morning Moth is Joe Kenny of the Kenny Brothers Band. "Girl from Delaware" is from the two-song EP, Looking Out The Window. Joe describes the EP as "My RPM Challenge submission that never got submitted, full of wrong tunings, rhythmic mistakes, off-pitch vocals, and weird sounds!"
For those of us not in the know, "the RPM Challenge is a crazy, fun, volunteer-run community art project made with considerable glee" in which musicians are challenged to record and submit 10 songs or 35 minutes of music. All songs must be recorded during February. Joe must have been in a hurry to get "Girl From Delaware" finished before the deadline, because he notes that he "made the last verse up on the spot." On his RPM profile page, Joe describes Morning Moth as "alternative folk music I guess you could say. Perhaps, I am not sure" and says the band members include "whoever wants to play."
Looking Out The Window is available for download on Morning Moth's Bandcamp page. And be sure to follow Morning Moth on Facebook. There's more music by Joe and his brothers on the Kenny Brothers Band Bandcamp page, on the Kenny Brothers Band website, and on their Facebook page.