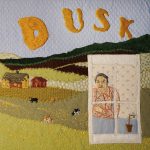 "Hey, Soozie," by Dusk, triangulates in that ethereal mist that floats in the nether region between country, rock, soul, psychedelia, and folk. What? OK, that's five genres so it pentagulates. Happy now? Whatever, this is American music, the sound that emanates from one of those flyover states that normal people inhabit and of which Elon Musk is unknowledgeable. Has he ever visited Appleton, Wisconsin? And no, don't start telling me that America Is Bad. I don't want to hear that. I don't want to hear about Trump and Detention Centers and the credit card debt of Supreme Court nominees. I just want to listen to "Hey, Soozie" and enjoy it because it's really really good and it didn't come from France.
I'm an Old School guy and when I listen to "Hey, Soozie" I have – in addition to a primordial connection with the music – many questions. Fender Rhodes or Wurlitzer? Lap steel or pedal? Alto or tenor? Hammond B-3 with Leslie or synthesizer? Guesses at the end of the review. Which means that you have to at least scroll down to the bottom if you're interested.
When I started this blog a couple of lifetimes ago, my intention was to Keep It Simple: just say "Listen to this song; it's good," and dispense with all of the Pitchfork-ish references and analytics. But for some reason that didn't happen. The lure of the Hyperbolic Review was too magnetic. But tonight we draw the line: just listen to the fucking song, OK? It's good. Trust me.
"Hey, Soozie" is from Dusk's eponymous (anyone who uses that word should be taken out back and shot) album, released last month. Yeah, I'm a few weeks late. Shoot me. No wait, you already did that for saying eponymous. You can only die once. I became aware of Dusk, not when I flew over Wisconsin, but when I discovered and reviewed "Invisible Song" by Dusk member Ryley Crowe. As the kid who cuts my grass would say, "Invisible Song kicks ass." Maybe the Yard Kid should write this blog.
Dusk is Julia Blair, Ryley Crowe, Tyler Ditter, Amos Pitsch, and Colin Wilde. I have no idea who plays what, though I think Julia sings and Ryley plays steel (among other things.). These folks are a strake more established than most of the bands I feature (1,557 people like this on Facebook!), which probably means no one will read this. There's an inverse correlation between Facebook likes and webpage hits. And if the band has a publicist? Fuhgetabowdit. I don't care; this is a Good Tune.
As a Certified Music Journalist, I'm obligated to inject at least one Obscure Reference into each review. If I don't, the union will send a cargo shorts-wearing hipster to my house to rip that coveted Music Press card from the hatband of my Fedora. The Obscure Reference for today: the saxophone on "Hey, Soozie" summons an amalgam of Dick Parry's work on Pink Floyd's "Us and Them" and Clarence Clemons' interweavings in "New York City Serenade." Full disclosure: it sounds like something else, but I couldn't quite put my mental finger on it even though I scrolled through my entire iTunes library. Of course, music journalists provide the Obscure Reference only to display their Encyclopedic Knowledge of Popular Music, and most of the time the references are completely bogus. I could say, "'Hey, Soozie' sounds like the early 70's offerings from Nova Scotian label SloScan Records" and you'd be, like, "Cool, I'll check them out once I finish this round of Fortnite."
You can support deserving independent musicians like Dusk by visiting their Bandcamp page, listening to their songs, and downloading your favorite tracks. Heck, just buy the whole damn album, OK? And be sure to follow Dusk on Facebook.
GUESSES TO THE QUESTIONS IN PARAGRAPH TWO: Sounds like a Wurlitzer to me. It's got that boing thing going on. Concerning the steel, I cheated on this one. I thought it was either a lap steel, or a one-neck pedal steel. I stalked Ryley Crowe on Instagram: turns out it's one of those three-pedal one-knee-lever Sho-Buds that were all over the place in the 70's. Full disclosure: I was all over the place in the 70's, too. Ok, smart guy, is it tuned to E9 or D9? The sax is probably a tenor, but I'd like to think that a talented player could get those warm sounds from an alto. No soprano. Never put a soprano and a pedal steel in the same aural space. And the organ? Surely no one actually tours with a Hammond-Leslie combo anymore, but maybe one was used for recording. I just don't think you can get that warmth from a cold synthesizer.
OK that's it. Now put down your iPhone and go listen to "Hey, Soozie" through some decent speakers.
Bonus Track: "Hey, Soozie" first appeared on Tenement's Blind Wink album (Dusk's Amos Pitsch was a member of Tenement). It's a very raw, rootsy take, great on its own, a template for future exploration. Wait for it…