Dusk – The Pain of Loneliness (Goes On And On)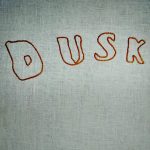 Dusk makes American music, an America with one foot in Liverpool and the other south of the border in the realm of Doug Sahm and Augie Meyers. The left hand is splayed across Tennessee with digits touching Clinch Mountain, Nashville, and the rockabilly bars of Memphis, while the middle finger inches down to nudge Muscle Shoals. The right hand holds aloft a hunk of Wisconsin-made government cheese the size of a car battery. There's no way you can sing in that position, much less play the guitar, but I worked a long time on that opening and I'm sticking to it.
"The Pain of Loneliness (Goes On And On)" opens like a locomotive bearing down on a penny glinting on a steel rail. It's a straight-ahead country rocker, the kind of music Poco could have made if they weren't so weepy. The track features a Sho-Bud steel guitar, a boingy Wurlitzer 200A electric piano, and a Farfisa organ. That alone should tell you all you need to know. The star of the show is the lead vocal, delivered with the frenetic earnestness of a man who's just getting started after the bars close at 2AM.
Dusk is based in Appleton, Wisconsin, just down an ice-covered road from Green Bay, which hosted America's Team back in the three-yards-and-a-cloud-of-dust days of Bart Starr and Jerry Kramer. The band comprises Tyler Ditter (vocals, guitar), Amos Pitsch (vocals, bass, Farfisa, acoustic guitar), Colin Wilde (drums), Julia Blair (Wurlitzer, vocal), and Ryley Crowe (guitar, pedal steel, percussion). "The Pain of Loneliness (Goes On And On)" was written by Amos Pitsch. Dusk may be one of the more successful bands that we've featured, based on (that always reliable indicator of stardom) their social media followers, and the amount of time they spend touring. I'd love to see these guys live, but they're gonna have to come down here where it's warm for that to happen.
We previously featured Dusk's "Hey, Soozie" of which I wrote these immortal words: "'Hey, Soozie,' by Dusk, triangulates in that ethereal mist that floats in the nether region between country, rock, soul, psychedelia, and folk." OK, not exactly Jon Landau's "I saw rock and roll's future and its name is Bruce Springsteen," but it was the best I could do at the time. I think you get the idea. At any rate, the song is worth another spin…
We discovered Dusk after writing about "Invisible Song," a track released by Dusk's Ryley Crowe under the name Darn It. Of "Invisible Song" I wrote, "Think the Byrds backed by the garage band down the street after they've downloaded a tuner from the App Store and learned to play something beyond power chords." Hey, that's not bad…
You can support deserving independent musicians like Dusk by visiting their Bandcamp page, listening to their songs, and downloading your favorite tracks. Or buy all of their tracks, plus those of Darn It. And be sure to follow Dusk on Facebook and Instagram.