darn it. – Invisible Song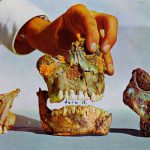 "Invisible Song," by darn it., is all about sedately beautiful harmonies layered over hugely thrashing, barely civilized guitars. Think the Byrds backed by the garage band down the street after they've downloaded a tuner from the App Store and learned to play something beyond power chords. It's a great effect, as if someone is smiling while kicking your ass. And no, that isn't a typo. The name of the band is darn it. with a small D and a period. What's that? No, I don't know why; stop asking me. Anyway, why not?
"Invisible Song" rumbles from somnolence with an autotuned solo vocal and a single guitar, then bangs fully to life when the rhythm section and Roger McGuinn et al join the party. The song is a mini-suite, following a lo-fi trail through multiple movements. The music ends just short of the seven-minute mark, leaving nearly three minutes of silence in which the listener is invited to bask. Oh well. Maybe it's part of the art. Maybe there's a hidden message in the void that only a dog can hear. Maybe I'll borrow my neighbor's Fido and check it out. Hey, dog, you hear anything? Wag your tail once for Yes and twice for No.
"Invisible Song" is from darn it.'s new seven-track EP, pt. II. darn it. is the solo project of Ryley Crowe of Appleton, Wisconsin, who is reported to be (by someone that I assume knows what he's talking about) "a member of DUSK, Miserable Friend and the Wishbone Breakers (formerly known as the Crowe Brothers)." On his Facebook page, Ryley tells us that pt. II is "a collection of songs from various places I've lived as well as some DUSK demos I recorded a while back." All songs were written, performed, and produced by Ryley.
You can support deserving independent musicians like darn it. (aka Ryley Crowe of Appleton, Wisconsin) by visiting his Bandcamp page, listening to his songs, and downloading your favorite tracks. In addition to "Invisible Song," I recommend "My Own Design," another track on which Ryley summons the Ghost of Roger McGuinn. What? He isn't dead yet? Are you sure? And definitely follow darn it. on Facebook.