Kasey Locke – Never Get to Heaven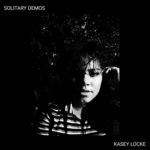 Last year a friend brought some tumeric roots back from Mexico, and gave us a pair. We planted them late. The leaves came up and grew a bit, then died away. I assumed that we would never see the tumeric again, and that Tumeric would be entered into our ledger of failed experiments, just below the squash that took over an entire bed without creating any squash, and the loofah gourd whose lifeless leaves now decorate an ash tree.
My wife — who takes great joy in the plastic goose on our front porch and the pink flamingos that are perpetually staring at the dying gourd plant from their home on the other side of the ash tree — promised me that the tumeric would return. Fast forward a year and… one plant is over four feet tall, the other is about three-and-half.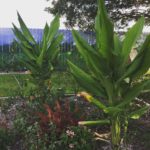 Like the tumeric plants, Kasey Locke — the artist formerly known as Dog Mom — has returned to these pages, bearing music that has sprouted new leaves.
We stumbled across Kasey back in 2018 when she was creating stark and stripped-down lo-fi tracks that were longer on raw talent than they were on production values. But listen to the other side of the out-of-tune guitars on songs like 'Blue,' and one could hear that all of the elements for success were present: songwriting talent, great voice, and a don't-mess-with-me attitude.
Kasey's new EP, Solitary Demos, showcases the amazing amount of musical growth that has taken place over the last two years. The songs have become both more complex and more polished, yet retain the emotional edge of her earlier work. 'Never Get to Heaven,' my favorite track on the EP, floats somewhere between shoegaze and Motown. The star of the show is the voice, soulful but without affectation.
Kasey Locke is based in Chicago. Her music is available on Bandcamp (Kasey Locke and Dog Mom are on separate pages), Soundcloud, Spotify, and Apple Music. And be sure to follow Kasey on Instagram and Twitter.