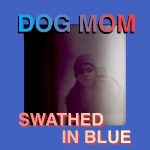 "Blue," by Dog Mom, is a stark, almost frightening look into the eyes of a person who is trapped inside her own soul, and by extension is trapped inside her bedroom. When I heard this track I wanted to call up Dog Mom and say, "Trust me, things will get better. Maybe you just need to get out more." On the other hand, "Blue" is a good song, so maybe she should stay in her room until she gets a few more tracks recorded (that's a joke, Dog Mom).
Many Songs of the Day featured in the virtual pages of Reverb Raccoon are classified as Underwear Music: songs written and recorded by a person sitting on a bed in their underwear, in the depressive state that follows the denouement of an unsuccessful relationship. "Blue" may be Next Level Underwear Music: a song written and recorded in a bedroom, in which the depression precedes the actual relationship.
Wake up cold
Sheets soaked through
I don't know what to do
Eyes swathed in blue
There's no solace
In my sleep
I fear the deep
Should I take the leap
I hope that "Should I take the leap" means taking the leap of seriously trying to do something with her music, because I hear great potential in this single track.
When you listen to "Blue," concentrate on the vocal arrangement. There is a very interesting background vocal at play here. It was this haunting harmony that won "Blue" the dubious honor of being Reverb Raccoon's Song of the Day (don't worry, Dog Mom, your privacy should survive the onslaught of publicity that will ensue about thirty minutes from now when I hit the Publish button).
The guitars, on the other hand… I hesitate to say anything about the tuning. We all know the story of the apocryphal studio executive who assumed the noise-laden break in The Who's "My Generation" was a damaged portion of the tape that would be edited out. After Dog Mom becomes famous for intentional dissonance, I don't want to be remembered as the creativity-challenged blogger who complained about it. So we'll let that one slide.
As a Certified Music Journalist, I'm obligated to provide at least one Obscure Reference in every review. So we'll say that the guitars on "Blue" brought to mind the guitars on Bob Dylan's "Queen Jane Approximately." As my good friend Damian Fanelli noted in a recent Guitar World article, "Someone must've gotten their guitar (and a few other instruments) 'approximately' in tune the day this classic Highway 61 Revisited track was recorded." Full disclosure: I am not a Certified Music Journalist and Damian Fanelli has no idea who I am.
Dog Mom self-describes as "just a gay girl makin' some tunes in her room." Her new album, Swathed in Blue, is a work-in-progress. "I'm just adding to this bad boy gradually," she notes. "Stay tuned." Uh, yeah, about those guitars…
You can support deserving independent musicians like Dog Mom by visiting her Bandcamp page, listening to her songs, and downloading your favorite tracks. Or, as Dog Mom herself tweeted…
The only way to support queer poc artists is to buy my music

— kim (@dogmommy420) May 20, 2018