Static In Verona – Blinking Midnight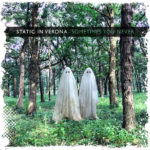 I am not calling Puddy. What did I do with my gloves? Oh, I bet I left them over at Puddy's. I should call him. I need those gloves. No, I better not. I'll call. (looks at table) Oh, look at that! There are the gloves. I was just about to call. There they are. That's funny. That's really funny. That's really, really funny. You know who loves funny stories? David Puddy! (picks up phone). — Elaine Benes in Seinfeld, The Voice
I will never leave my wife, and I will do whatever it takes to keep her happy. Because I don't know any of the streaming service usernames or passwords. And if my wife and I ever separate, I'll have to sign up for the entire lot all over again. Sure, I could write the info down now — just in case — but besides tempting fate I would deprive myself of a future excuse to make that dreaded late-night call. Uh, I need to watch Seinfeld cuz I'm trying to write about this song… How do I get into Hulu?
Static In Verona's 'Blinking Midnight' introduces a soul who has moved out but not on. He's thrown back a few drinks while unpacking his boxes (always unpack the booze and the stereo first), and has discovered that the secret for setting his digital clock still resides in his old apartment.
Must have been the alcohol
That made me call
You don't seem surprised
I know it must be late
But my clock's blinking Midnight
'Blinking Midnight' is unstuck in time, a postcard snail-mailed ten-plus years ago, before iPhones replaced watches, when a corner of every darkened bedroom was tinged in red by the ghostly glow of a digital clock's LED numerals. The song's arrangement, too, has been floating through the time-space continuum for a few delightful eons. The track kicks off with that 'Be My Baby' beat — the best possible way to begin a song — before whirling into a Beach Boys cut from their long-lost Phil Spector sessions.
I love a solid Wall of Sound as much as anyone. But 'Blinking Midnight' is perhaps more feature-rich than its setting of origin: a bare apartment occupied by a few still-packed boxes and a half-drunk person sitting on a mattress, clutching a bottle of unchilled cheap Chardonnay — the screw cap rolls around between his feet — and staring at a flashing 12:00 on the clock that has been placed on the floor and plugged into the outlet that may someday be shielded by a nightstand.
'Blinking Midnight (Reprise)' offers an alternative reality: the song created when the old acoustic is unwrapped from the blanket. This is the music that creeps from the former partner's phone after the initial pleasantries and the hastily mumbled Uh, I wrote this for you…
Static In Verona is Chicago musician Rob Merz. 'Blinking Midnight' appears on his new album, Sometimes You Never, currently available on Bandcamp and set for general release next month. Sometimes You Never is the sixth Static In Verona LP to find its way out of Rob's basement since 2008. We've been fans of Static In Verona for several years — ever since Rob inexplicably followed us on Twitter — and have featured his 2015 album, Odd Anthem, and two songs of the day: 'Funny Things' (2018) and 'The Loud Nothing' (2019).
The music of Static In Verona is available on Bandcamp, Spotify, Apple Music, Soundcloud, and Reverb Nation. Visit the Static In Verona website, and follow Static In Verona on Twitter, Instagram, and Facebook.