The Unswept – Forget The Day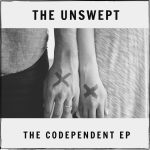 Mnemosyne, one must admit, has shown herself to be a very careless girl. ― Vladimir Nabokov, Speak, Memory
It is just an illusion here on Earth that one moment follows another one, like beads on a string, and that once a moment is gone, it is gone forever… All moments, past, present and future, always have existed, always will exist. ― Kurt Vonnegut, Slaughterhouse-Five
In 'Forget The Day,' The Unswept bring offerings to Mnemosyne and implore a minor memory loss, the skip of a single groove on Side One of Life's LP. But the supplicant little realizes that memory is not a vinyl disk but an 8-track tape, forever running on the mind's Panasonic player. The light waves — the rays that captured the moment that we wish to forget — exist, have existed, will always exist.
The goddess herself is a fickle arbiter, pledging eternal inspiration for her adherents while trying to forget that her amusing nine-member brood was fathered by her nephew. But The Unswept aren't overly selective; if Mnemosyne provides no solace, then they are happy to accept roadside assistance from any passing motorist with the ability to re-write the theories of physics that prevent the destruction of light waves.
Hey, help me forget that day
Anyone, anyhow
Anywhere, anyway
Help me forget that day
'Forget The Day' is power pop for the right corner pocket, a song that thunks solidly into the intended target with a lightly restrained touch of the cue. You'll find no screaming here, nor explosions of guitar pyrotechnics, just a song that will draw Mnemosyne's favor. 'Forget The Day' is one of those oft-overlooked gems that are easy to hear but difficult to write.
The Unswept are Charlie O'Brien (guitars, keyboards, drums, vocals), Liz O'Brien (bass, piano, vocals), and Ryan O'Brien (drums, guitar, percussion, vocals), alleged cousins from Sheffield, England who found themselves cast upon the teeming shores of Chicago. 'Forget The Day' appears on their new four-song release, The Codependent EP. Today's track is The Unswept's second song of the day; last year we featured 'You Ain't On My Mind' from their full-length album, Minor Blemishes. And Liz scored a song of the day with 'The Age and the Ache' by Liz + the Baguettes.
The Unswept's music is available on Bandcamp. And be sure to follow The Unswept on Twitter and Facebook.