The Unswept – You Ain't On My Mind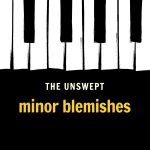 Who lost none of them because he could not remember his sister but only the loss of her… — William Faulkner, The Sound and the Fury
Benjamin, our lastborn, sold into Egypt, remembered none of the glad times, only the hollowness of the absence of Candace, and then only when a golfer called to the carrier of his bag. Unable to reconcile the Present with the forgotten Past, Benjy – formerly Maury – finally fulfilled his destiny as the star freshman of Jackson State.
You can't, as Johnny Thunders said, put your arms around a memory. Nor can you run from a memory. You can try, but if you run and run you will circumvent the sphere of the Earth and arrive back at the exact experience that was hoped to be forgotten. In 'You Ain't On My Mind,' The Unswept confront the quandary of claiming forgetfulness of the soul whose forgotten memory is proclaimed. The lady doth protest too much.
'You Ain't On My Mind' is a thoroughly Byrdian splash of country-inflected power pop that turns 'You're Still On My Mind' onto its metaphysical head. Jangly twangly guitars progressing through already heard chords and harmonies lend the track an air of familiar freshness. Keep the replay button within easy reach, as you will want to remember this track long after the final notes have faded.
The Unswept are Charlie, Liz, and Ryan O'Brien, cousins originally from Sheffield, UK (more trees per person than any other city in Europe, according to Wikipedia), but now based in Chicago. 'You Ain't On My Mind' is from their new twelve-track album, Minor Blemishes. The Unswept self-describe as Chicago's 'best undiscovered gem of a power pop band.' Reverb Raccoon gives The Unswept two paws up, with assurances that, if we've discovered them, they are no longer undiscovered. Though we admit that our having found them meets the minimal criteria for discovered.
You can support deserving independent musicians like The Unswept by visiting their Bandcamp page, listening to their songs, and downloading your favorite tracks. And be sure to follow The Unswept on Facebook and Twitter.