David Woodard – Everything in Between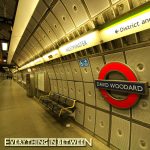 Paul: So we are alone?
John: Yeah, you and me and everything between us.
— from Two of Us
All moments, past, present and future, always have existed, always will exist.
— Kurt Vonnegut, Slaughterhouse-Five
The light waves that record the movies of our lives cannot be created or destroyed. Two people captured in the same wave of light share an experience, have always shared it, will always share it. Some people gather those waves into a ball and shove it into the deepest corner of their consciousness. Others carry it with them every step that they take.1
The random passenger who passes you his peanuts on an airline flight may appear in your movie for only a few frames. He may be forgotten, his cameo lost on the cutting room floor. Or he may appear as a character in your novel.2 Someone with whom you share decades of your life may own a bookshelf bowed by the weight of Super-8 movies, VCR's, DVD's, and backup drives, the collection of films in which you co-star, the credits displayed in diagonal billing style.
In 'Everything in Between,' David Woodard directs a feel-good rom-com, Groundhog Day but with characters who have no desire to escape the happy do-loop of their lives. Their shared movie plays in real time, all frames shown simultaneously in the theater that seats only two.
You always said the good takes time
And time we have
And everything will come back around
And around again
The lyrics for 'Everything in Between' were inspired by John Lennon's line in Two of Us. The music likewise gives a passing wave to the Beatles, and there's nothing wrong with that. The track has more in common with modern janglepop bands like the Umbrella Puzzles, groups whose music sounds a little bit Beatles, a little bit Byrds, but who combine the influences to create an untasted sound.
'Everything in Between' is the title track from David Woodard's new six-song EP. David describes his music as British invasion-inspired power pop exploding with tight harmonies and jangly guitars. On his Bandcamp page, we learn that, 'Thanks to the records of his dad and his aunt, David learned that Paul McCartney was in another band before Wings. Like the generation before, he was inspired to play guitar.'
Today's track is our second Song of the Day from Everything in Between. We previously featured 'Nine Hundred Ninety Nine,' a song co-written with David Schrader, who scored his own Song of the Day with 'Pup Tent.'
Everything in Between is available on Bandcamp, Spotify, Apple Music, CD Baby, and YouTube. And be sure to follow David Woodard on Twitter, Instagram, and Facebook.
1 Bruce Springsteen, 'Darkness on the Edge of Town'
2 Allie Larkin, Why Can't I Be You