A Cornucopia of Country Covers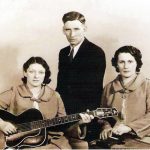 The themes of real country music – the pleasures and aches of Life and Love – are timeless, are worth repeating. The pain you feel today is the same pain that your great grandfather felt. He was just more stoic about it because he didn't have Twitter to share his hurt with the universe. But he had a country song, maybe something that he heard on the car radio, or on the jukebox at the bar, or maybe something that he picked out on his guitar, sitting on his front porch with an unfiltered Camel in the corner of his mouth. A song that he played for you, and that you carried with you and played again for the kid that one day inexplicably appeared on your living room floor.
The concept of a cover song is embedded in the blood of country music. The songs scratched out on homemade instruments in cabins scattered along the ridges and valleys of western Virginia and eastern Tennessee were re-rememberings of Scotch and Irish folk songs that were carried across the Atlantic, not on an iPhone, but in someone's head. Farther south, the country blues were inflected by strains and melodies that echoed from Africa.
The best cover songs are not re-creations but re-imaginings: something new must be brought to the party, not just the same already-opened bag of stale Doritos that you brought last time and that no one really liked because you didn't bring any queso. Today we present a lucky seven country cover songs that will drop a big dollop of blackstrap molasses onto your musical nacho chips.
David Nance – Silver Wings (Merle Haggard)
Anyone who ever strapped on a guitar dreamed of playing the solo heard here. But they probably didn't plan on ripping it out while a pedal steel meandered pleasantly in the background. David Nance is known for covering, not just single songs, but entire albums. 'Silver Wings' appears on his 2017 album, Negative Boogie.
Gailanne Amundsen – You've Been a Friend to Me (Carter Family)
I'm not a huge fan of the banjo, having grown up in Tennessee hearing it annoyingly twanged by associate professors with leather patches on the elbows of their corduroy sport coats. But Gailanne Amundsen coaxes a tender expressiveness from the beast. The harmonies here are beautiful, the voices melding with a sweetness unknown to the original singers. 'You've Been a Friend to Me' is the title track from Gailanne's new album of Carter Family covers.
Ryan Paul and the Ardent – Always Late (Lefty Frizzell)
'Always Late (With Your Kisses)' has been recorded by everyone including Jerry Garcia and, more successfully, Dwight Yoakam. Typically played as a swinging shuffle, Ryan Paul's version is a quiet ballad, voice and guitar backed by ethereal pedal steel. The track was recorded live in 2008, an 'impromptu cover during a repair on stage.' I am always impressed by the ability of real musicians to just pull a song out of the air.
John Baizley and Katie Jones – If I Needed You (Townes Van Zandt)
If I needed you would you come to me and ease my pain? The genius of Townes Van Zandt was to ask rather than talk around the question. 'If I Needed You,' by John Baizley (Baroness) and Katie Jones (Monroe?), appears on Songs of Townes Van Zandt, twenty-two tracks by musicians of whom you may not normally associate with country. Some may argue that Townes Van Zandt wasn't country, but it feels country to me.
Eef Barzelay – Ready to Go Home (Hank Williams)
Country music is inseparable from gospel music. The earliest memory of many musicians is standing between a pair of pews, unable to see over the top of the one in front, hearing a group of grownups singing – badly – a standard hymn of the Protestant variety. Some may have heard an organ or out-of-tune piano in the background. 'Ready to Go Home' was recorded by Hank Williams in the early 50's, but was not released until Hank had crossed over. Eef Barzelay's rendition appears on Fan Chosen Covers, released in 2011.
Johnny Cactus and the Pricks – Drivin' Nails in My Coffin (Ernest Tubb)
Take the old Ernest Tubb classic, strip away everything but the bare essentials, and dial in the reverb. If there is such a thing as country dream pop, then this is it and it's kinda cool. I don't know nothin' 'bout no Johnny Cactus and the Pricks, but 'Drivin' Nails in My Coffin' appears on their 2014 opus, Fuck Country Music This Is the Pricks which, I was surprised to learn, was passed over for a CMA.
David Nance Group – Little Bit of Rain (Fred Neil)
We began our journey with David Nance and that's where we'll end it. David completely re-imagines the Fred Neil folkie, creating a new song that is both more country and more tragic than the original. 'Little Bit of Rain,' from the album Catharsis Lottery: Live 2018​-​2019, was a Song of the Day earlier this year.  And if I look back I'll try to remember all the good times, warm days filled with sunshine, just a little bit of rain. And if you look back try to forget all the bad times, all those sad and lonely blue times, cause it's all just a little bit of rain.